EoC enterpreneurs Francis and Teresa Ganzon met a small group of Catholic businessmen in Bangkok, Thailand
Last Saturday, April 27, a small group of Catholic businessmen belonging to the Thai Catholic Businessmen's Club, as well as its youth arm, along with some businessmen from the Focolare movement in Thailand, met with EoC enterpreneurs Francis and Teresa Ganzon of the Philippines (Bangko Kabayan), to learn more about the spirit of the Economy of Communion.
The meeting began with a showing of the video of the Highlights of the Asian EOC Congress of 2016, at the occasion of the 25th anniversary of the EOC. In the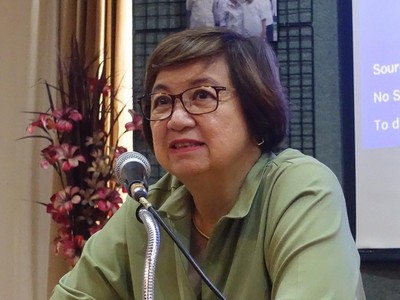 video, various salient points of the EOC were captured through portions of the talks of Luigino Bruni, Anouk Grevin, Luca Crivelli, Lorna Gold and Teresa Ganzon of the international commission of EOC.
An interesting dialogue followed the viewing of the video. A family of four who owned a garments factory shared their difficulty with constant advances requested by their sub-contractors, some of whom then failed to deliver their goods on time. Or left their advances unpaid. How many times does one forgive?
There were other issues brought forth like how to engage young businessmen (youth) and expose them to guidelines of running a business according to the EOC and Catholic teachings.
The two and half hours passed quickly in lively discussion, which concluded with the resolution to stay in touch and have another opportunity to go into practical issues encountered in the workplace – and to seek solutions to them, together, and according to principles of communion.