For the first time, the report includes not only the usual data on the use of profits but also the census of businesses in the world and news on the culture of communion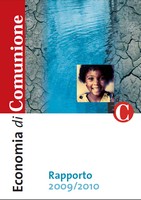 The entire year of the Economy of Communion: the data and news presented in the EoC Report are from September 2009 through August 2010, hence the "2009/2010 Report". In its two preceding editions, in 2008 and 2009, the EoC Report accounted for the distribution of aid (the shared business profits and private contributions)and the projects underway to create new jobs in EoC businesses and to support new micro-enterprises.
This year the 2009/2010 Report also includes much more: the results of the global Census of EoC Businesses that began in 2009 and concluded this past summer; the diffusion of the culture of communion, beginning with Benedict XVI's latest Encyclical that cites "civil businesses and businesses of communion"; and reports from seminars, conventions and schools…The "numeric" data are accompanied by vibrant graphs and interpretation.
Download the report here (in Italian)