Economy of Communion A new culture Magazine edited by Alberto Ferrucci
A four-monthly periodical conceived to connect all those who adhere to the project launched by Chiara Lubich for an economy of communion in freedom.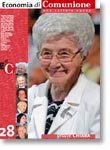 It is an economy for people who find self-fulfilment in relationships with others rather than in rational egoism. It is an economy based on a 'commitment to grow together', rather than on a struggle to dominate, being willing to risk economic resources, inventiveness, and talents in order to share the Gospel's culture of giving.
This culture of giving is proving to be more and more fundamental in directing humanity of the twenty-first century in its search for new ways to face the environmental challenge and to avert new atrocities among men caused by economic globalization.
Download printable version of EoC N.32 in PDF
Other issues are available for download at: PDF Files/EoC Magazine (PDF archivo, from N.25 until current issue)
see also: online papers/EoC magazine
Issues before N.25 can be downloaded at: http://tesi.ecodicom.net/notiziario.php

A collection of the most significant articles of the first ten years (twenty issues) of the Newsletter "Economy of Communion - a new culture" (from 1994 to 2004) are in the first issue N.1 of "Economy of Communion Notebooks", also available online (in Italian).