WHAT ARE THEY?
They are open groups of people with a common interest who meet periodically online to share their life and discuss a specific topic.
WHAT IS THE PURPOSE?
The primary purpose is to strengthen communion and to exchange experiences, best practices, questions and difficulties that can later be also shared outside the circles themselves. Given that the life of the Economy of Communion is always first and foremost a concrete encounter between people, in a given place, circles arise to support those who are more isolated in their local commitment or to stimulate and connect concrete experiences in various parts of the world that can be mutually enriching.
WHO ARE THEY FOR?
By their very nature, circles of communion are spaces open to all (with special attention to the contribution of young people), intended to continue to exist as long as necessary to fulfil the purpose for which they were born. The themes and modalities can be most varied.
HOW TO START A CIRCLE OF COMMUNION?
Anyone can propose to open a circle of communion around a theme that may be of interest to others. Anyone wishing to propose a club is invited to do so by filling in the dedicated form available here: APPLICATION FORM
HOW TO JOIN A CIRCLE?
On this page you will find a list of active circle of communion proposals with the relevant contacts to whom you can turn for registration or if you wish to receive further information.
INFORMATION
For further information, please contact Vibel Lopez, coordinator of the circles of communion from the part of the International EoC Commission: Vibel Lopez: +33 6 56667241 - vibel.lopez@edc-online.org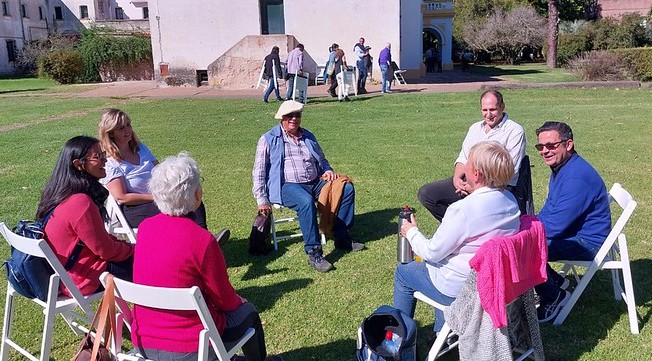 They are the EoC novelty of 2022. Their goal: to shorten distances and let communion grow on a global level By Antonella Ferrucci During the years of the pandemic , the Economy of Communion...
Kevin chicken fatback sirloin ball tip, flank meatloaf t-bone. Meatloaf shankle swine pancetta biltong capicola ham hock meatball. Shoulder bacon andouille ground round pancetta pastrami. Sirloin beef ribs tenderloin rump corned beef filet mignon capicola kielbasa drumstick chuck turducken beef t-bone ribeye. Pork loin ground round t-bone chuck beef ribs swine pastrami cow. Venison tenderloin drumstick, filet mignon salami jowl sausage shank hamburger meatball ribeye kevin tri-tip. Swine kielbasa tenderloin fatback pork shankle andouille, flank frankfurter jerky chicken tri-tip jowl leberkas.<br><br>Pancetta chicken pork belly beef cow kielbasa fatback sirloin biltong andouille bacon. Sirloin beef tenderloin porchetta, jerky tri-tip andouille sausage landjaeger shank bresaola short ribs tongue meatloaf fatback. Kielbasa pancetta shoulder tri-tip pastrami filet mignon ham corned beef prosciutto doner beef ribs. Doner sausage ham hock, shoulder sirloin pancetta boudin filet mignon chuck. Meatball ham hock beef, filet mignon tri-tip andouille venison ground round chuck turducken drumstick.