Is your company member of the Economy of Communion in Freedom?

If it isn't, do you recognise yourself in it and do you want to show your sympathy?
The new website www.edc-info.org,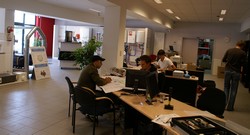 has been active since the end of May 2014 and was created to collect the data of the participating companies and supporters of the EoC. It is a new and quick instrument that will allow companies to inform the project management at the local and international level about their corporate profits shared with the poor whether they are donated through the official channels of the EOC, or used for the same purpose in different forms, and it will also facilitate the formation of a culture of communion.
All the companies that already participate in the Economy of Communion, or would like to join are hereby invited to register on the site.
How does it work?
Through the website, available in six languages ​​(Italian, English, French, Portuguese, Spanish and Slovak) any business owner can get in contact with the project, by registering as "Member", and so committing their company to conduct activities in accordance with the principles expressed in the Economy of Communion Identity Card, or by registering as a "Sympathizer" and asking to be kept informed about the activities of the EoC and possibly offering their willingness to share expertise for the project.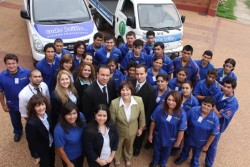 The available data reported by the companies will be used in aggregate form to provide a comprehensive overview of the activities of the EoC businesses worldwide. Using the data, the Local Committees or the Central Committee of the EoC will also be able to facilitate the timely sharing of expertise and the collaboration between the companies.
The Committees of the Economy of Communion of the territories in which newly registered companies operate will be informed of the new members, and they will be directly available for these companies to assist their successful participation in the project.