After more than a year of intense preparations, everything is finally ready in Nairobi, the host city of the Second Pan-African EoC Congress from tomorrow, May 27, through Sunday, May 29.
by Panafrican Team
Africa, like the rest of the world, has experienced difficult episodes in the past three years, partly due to the difficulties related to COVID 19, which has put a strain on the momentum of communion economy members in several countries. However, in this month of May here in Nairobi a beautiful, hopeful sun is being reborn.
The smiling faces of the participants of the 2nd Pan-African Economy of Communion show the joy of being together once again, the hope and resilience that allow us to think of a better tomorrow. Several delegations have already arrived from all over Africa, but also from Europe, and we have already welcomed more than 85 participants out of the 140 people registered for the conference, which will take place both in presence and online.
The EoC Pan-African Entrepreneurs' Congress 2022 aims to strengthen the bond between entrepreneurs by sharing life experiences, dialogue opportunities, workshops and mentoring young people in order to help shape the future of the EoC in Africa.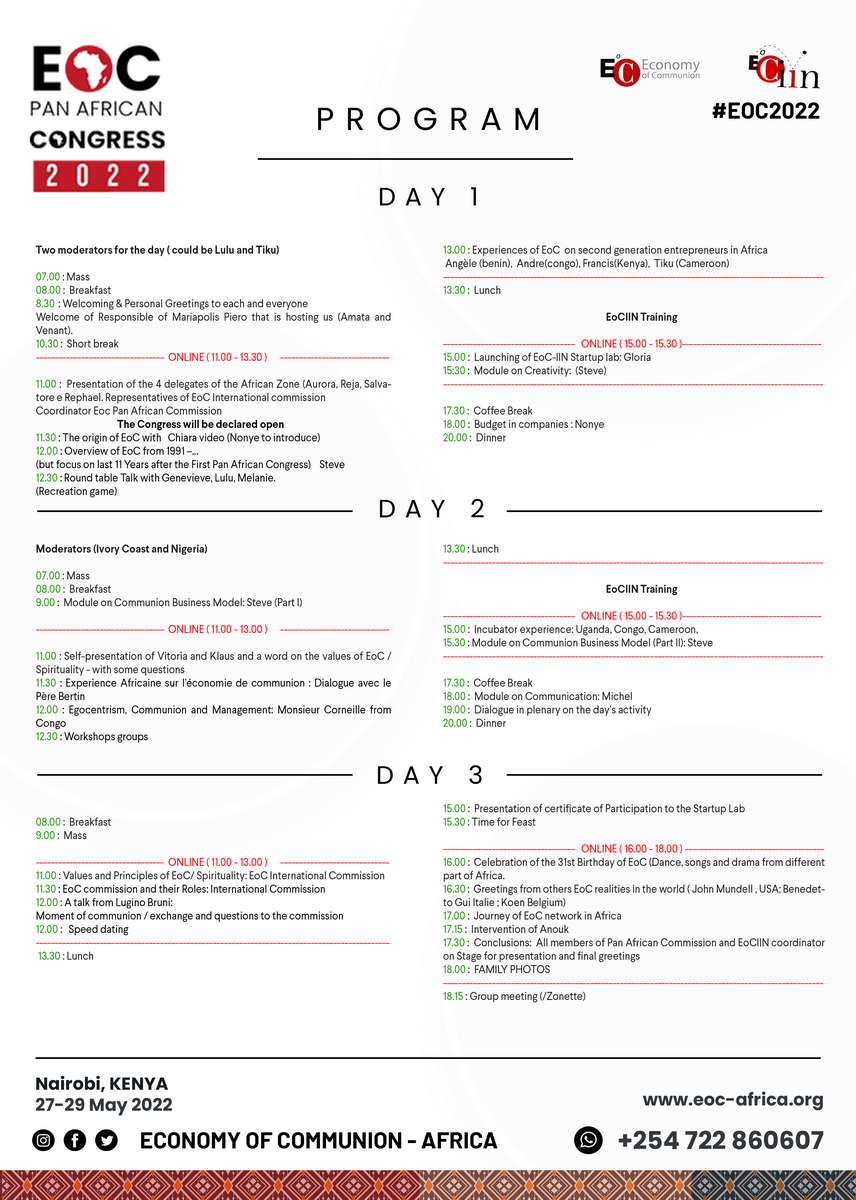 The ultimate goal: to draw up a joint action plan for the next 10 years and to think about strategies to realise Kenya's dream through incubators 'one company is not enough', with a special focus on young people.
It will also be an opportunity to celebrate the EoC's 31st anniversary together on Sunday afternoon, 29 May!
For all those who plan to attend, in person or online, find the conference program image here (1.04 MB)
---
🔴

STREAMING TIMES AND LINKS
By clicking on the live stream times, shown here in Nairobi time (GMT+3), you will be able to access the streams:
Or go to the complete Playlist ➡️ https://youtube.com/playlist?list=PL_1EPGbxVVil5aSQ9GviibSLtw_swBEwk