Un breve percorso dall'antichità al Novecento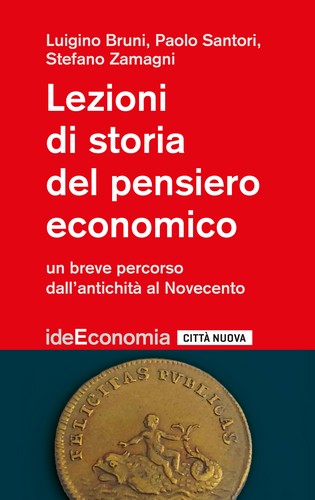 Luigino Bruni, Paolo Santori e Stefano Zamagni

Città Nuova, Roma, 2021
Collana "Idee - Economia"
ISBN: 9788831101998
Acquista su Città Nuova
Una mappa per orientarsi tra le grandi idee economiche di oggi e di ieri - È tempo di un viaggio nella storia del pensiero economico. La conoscenza delle idee degli economisti di ieri, infatti, è spesso fonte di creatività teorica e di pensiero critico sul presente. Data la varietà temporale, spaziale e culturale della strada da percorrere, gli autori propongono il presente volume come una mappa concettuale per orientarsi nell'immensa ricchezza della storia delle idee economiche. Le coordinate sono quelle dell'Economia Civile, una tradizione di pensiero economico, espressione della via meridiana e mediterranea all'economia di mercato, che oggi è diventata una prospettiva di studio sull'economia a partire da parole chiave come reciprocità, fraternità e pubblica felicità.
Luigino Bruni è professore ordinario di Economia Politica all'Università Lumsa di Roma. All' attività di editorialista per Avvenire affianca l'impegno come presidente della Scuola di Economia Civile ed è impegnato nell' "Economia di Comunione" e in "The Economy of Francesco".
Paolo Santori è docente di Filosofia ed Economia all'Università di Tilburg (Paesi Bassi). Dottore di ricerca in Scienze dell'Economia Civile presso l'Università Lumsa di Roma, è stato assegnista di ricerca presso il Centro Universitario Cattolico.
Stefano Zamagni è stato professore ordinario di Economia Politica all'Università di Bologna e Adjunct Professor of International Political Economy alla Johns Hopkins University. Attualmente ricopre l'incarico di presidente della Pontificia Accademia Delle Scienze Sociali.
---
RECENSIONI:
09/01/2022 - Il Sussidiario.net - ECONOMIA CIVILE/ Il filo d'Arianna per uscire dal labirinto della crisi di Gianfranco Fabi
03/09/2022 - La Civiltà Cattolica - LEZIONI DI STORIA DEL PENSIERO ECONOMICO di Francesco Pistoia