Details

Written by

Antonella Ferrucci

Hits: 9
Paris: The 90th French Social Week (Semaines sociales de France; SSF), held from 2 to 4 October, has now ended. The contribution by the Economy of Communion.
by Antonella Ferrucci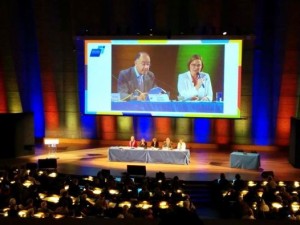 French Social Weeks have a long tradition: born in 1904, their aim has always been to make Christian social thought known and bring its light on the issues of society: this way, the social doctrine of the Church may be applied to the problems of our times. The title of this latest edition attended by nearly 2000 people was: "Religions and cultures, resources to imagine the world". The most represented issues, as you can imagine because of their topicality, were migrants and the environment, brought to the centre of the world's attention by the recent encyclical of Pope Francis Laudato Sì.