EoC The project
history
In May 1991, while Chiara Lubich was on a plane approaching the city of San Paolo, Brazil, she was struck by the sight of the vast ring of "favelas" or "shanty-towns" surrounding one of the greatest concentrations of skyscrapers in the world.
What can be done?
When she arrived at the little city of the Focolare Movement, Mariapolis Ginetta, near San Paolo, she learned that the communion of goods carried out by members of the Focolare Movement was insufficient to help all those Brazilians so close to her heart who were experiencing difficult times.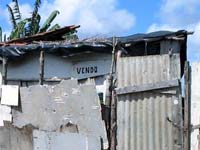 This realization motivated her to provide food, shelter, medicine and, if possible, a job for as many as possible.
Having in her heart the newly published Encyclical by John Paul II, "Centesimus Annus", she launched the Economy of Communion:
Businesses will freely put their profits in common just as the early Christian communities did.
First, they will help those in need financially, or offer them a job, taking action so that no one remains in need.
They also will reinvest part of their profits in the business and use a portion to develop the structures of the little cities of the Focolare Movement where people will learn how to live and work in a culture of giving.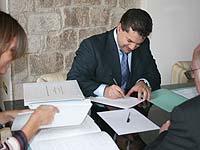 A little city like the one in Brazil, a country wounded by the gap between the rich and the poor, could become a beacon and a hope to many.
Those present at the meeting immediately embraced this proposal! They felt deeply shaken and everyone wanted to get involved right away. They began to give personal contributions in the most varied ways, renewing the communion of goods lived in the Focolare Movement since its early days with a new vigor and radicalism.

They put everything in common: money and jewels, land and houses, time and labor. Some relocated and others offered their sufferings and illnesses. One couple gave all their savings,
$ 4,000, "because we are part of this ocean of love, like a drop of water... and may God transform this dream in a great reality that will light up the beginning of the Third Millennium".
The "dream"of those days is now becoming a reality. Many businesses were started, not only in Brazil but also in many countries around the world. Existing businesses made the project their own, modifying their style of management and the distribution of their profits.