From our history: the silent but fundamental role Cosimo Calò played in that May of 1991, at the Mariapolis Araceli
by Antonella Ferrucci
Dearest Rosa,
thank you for the faxes that have given much joy to Chiara. Here one breathes an air of paradise as never before. Let us pray to the Lord to always live our vocation with dignity and to give freely all of ourselves to the work so that we can leave our children a memory of God among us.
I embrace you together with all the kids. In G.A., our paradise,
Your Cosimo
This was a fax dated 24 May 1991, by Cosimo Calò, addressed to his wife Rosa. It is a first-hand testimony of how one could breathe "an air of paradise" in the days when the Economy of Communion was born, at the Mariapolis Araceli. Let us try to understand what role Cosimo Calò played in Chiara Lubich's life and in the birth of the EoC in particular.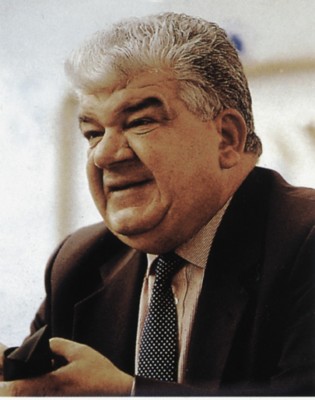 paradiso".
Cosimo was Chiara's personal physician for many years, establishing a very strong relationship with her. "From 1979 onwards, Cosimo always accompanied Chiara on her journeys." His wife, Rosa tells us, "The trip to Brazil in 1991 was the last intercontinental trip he went on with her*. He was sitting next to her on the plane when, flying over Sao Paulo, Chiara was so struck by the difference between the skyscrapers and the favelas that surrounded them that she immediately wanted to do something to promote social justice."
From that moment on Chiara felt the urgency to create something that would respond to the need she felt so strongly. These were the days when the EoC 'bomb' was 'ripening': it is known that in the days immediately following her arrival in Brazil in 1991, the strong injustice she had perceived from the plane created such a deep impact on her that it also affected her physical condition. Several days passed until the time came for her to communicate the inspiration that had matured in her to the Brazilian community. It was there that Cosimo played a decisive role: at the moment of going on stage, as often happened to her, Chiara feared she would not make it. Cosimo stepped in and told her: "No Chiara, these people cannot leave without you telling them this idea of yours: there is nothing to stop you, you can do it."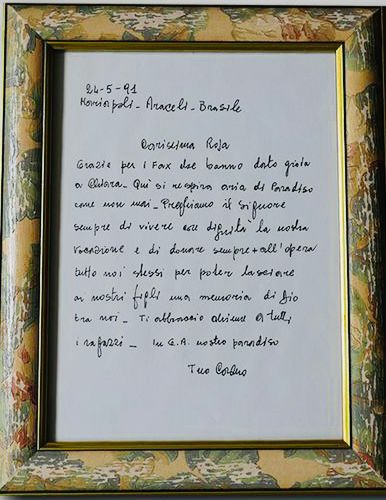 "For Chiara, such a situation was always a very intense experience," Rosa continues, "and in the end she was almost consumed because everything came from inside her, exhausting all her energy; however, on that occasion Cosimo encouraged her, she went on stage and what came out of it is visible to us after thirty years. It was a sacred moment for everyone. Many people commented, 'today we have been in paradise'." For her, Cosimo Calò was - in Chiara's own words - 'a sign from God for my health".
After Cosimo's death, in 1998, Chiara returned to Brazil one last time and was scheduled to meet 11,000 Brazilians from all over the country. In the previous days she had had two very intense meetings, one at the State University of São Paulo (USP) with prof. Franco Montoro, one of the fathers of democratic Brazil. These meetings completely exhausted her energies, so much so that, although it was very painful for her, she was unable to meet the 11,000 people waiting for her, and Ginetta Calliari went in her place. For the same reasons she was unable to attend the inauguration of the Polo Spartaco (it was inaugurated by Eli Folonari) nor did she fly to Recife where an Honorary Degree in Economics was awaiting her (she was represented by Vera Araujo).
Chiara Lubich had that fax of 24 May 1991 framed and gave it to the wife of its author, Rosa because it testified how a married couple who live the Gospel with intensity can be a "memory of God" for their children and for all humanity.
Until today I had not known the details - bearers of the "sacred" - of Cosimo's role in the history of the Economy of Communion: now a great sense of gratitude is born in my heart for him because it was also because of his "support" on 29 May 1991 that we have had the gift of the EoC.
---
* Cosimo Calò died unexpectedly in 1992