Sophia University is offering a series of three Sophia-EoC webinars entitled "Economy of Communion at work", on May 11, 18 and 25 2022, starting at 2 pm (Central European time, UTC + 2), duration 75 minutes.
#EoCatWork: three opportunities in May 2022 to learn about Economy of Communion entrepreneurs, their companies, and the story of their business. But not only.
The second webinar will feature Francesco Tortorella, Head of International cooperation projects' department, Azione Mondo Unito (AMU) and Lia Guillen, AMU Project coordinator for Latin America with a presentation entitled:
Human development and communion. The dream of AMU.
Introduction by: Marta Pancheva (Sophia University).

From the beginning, a crucial aspect of the Economy of Communion's activity has been to transform the profits shared by businesses into concrete and appropriate forms of support for brothers and sisters in economic difficulty.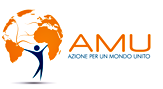 Associazione per un Mondo Unito (AMU), an NGO that has been working in the same spirit as the EoC since 1986, plays an important role in this regard. In addition to implementing various projects of international cooperation, AMU has developed an original intervention model, which will be presented during the webinar, together with examples from various continents.
Appointment on May 18, 2022 at 2:00 pm (CEST) on the YouTube channels of the Sophia University Institute (in English) or simply by clicking the preview image of this post.