Call for papers RES 3/2011
Christian economic models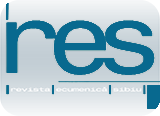 The liberal economic system requires clear prevailing conditions based on ethical principles. Not only the recent economic crisis, but also a whole range of other long-term issues (particularly the ecology) demand a new orientation. Appropriate solutions for these issues can emerge from theoretical reflection on the one hand, but they can also follow certain concrete models which attempt to cope with the complexity of the human nature.
Do the Christian tradition and theology offer such models? And if they do, are those models suitable for smaller groups, or do they also provide with ideas and experiences which challenge and enrich the economic theory as a whole?
Deadline: 15th of may 2011
The 3/2011 RES issue would like to pursue these questions. Articles of various kinds are welcome, for instance a historical research on the economic systems developed within Christian communities, an analysis of actual projects which follows the Christian faith and practice, exegetical studies emphasising the biblical criteria for a righteous economy, or social-ethical articles approaching the actual economic system from a Christian perspective.
Competent ecumenical and interdisciplinary answers to these questions given by theologians belonging to the three ecclesiastical traditions are to be published in RES 3/2011.
The Ecumenical Journal Sibiu (RES) is the academic journal of the Ecumenical Research Centre of Sibiu and serves both national and international ecumenical research, enjoying an international scientific support. The journal is issued three times per year, each issue dealing with a specific topic.
The publishing process of RES starts with a call for papers session followed by a blind-reviewing process, which is meant to assure high-quality articles.
The articles for RES are to be sent via e-mail to Esta dirección de correo electrónico está siendo protegida contra los robots de spam. Necesita tener JavaScript habilitado para poder verlo. and they are selected depending on the relevance to the given topic and on the observation of the author guidelines. The final decision of publishing an article belongs to the reviewers.
The articles sent for publication must consider the RES editorial guidelines. After selection the articles will undergo a blind-reviewing process. This will clarify which articles will be published and also the possible improvement or additions that are to be made by the authors.