A collaboration between a French institution for the promotion of enterprises and an EoC bank specialized in microfinance in the Philippines was born.
by Teresa Ganzon

from "Economia di Comunione - una cultura nuova" n.39 - editorial insert in Città Nuova n.13/14 - 2014 - July 2014
In the Philippines, commercial banks have started to offer farmers better credit conditions, creating hardships for rural banks, some of which have already been acquired by foreign banks.
In this situation of fierce competition, even our Bangko Kabayan had to improve its procedures. Several foreign banks seeking investments in Asia were approaching us, but they were willing to share their skills only if they were to obtain at least 35 percent of the property. With my husband Francis and the board of the bank we were hesitating to accept a partnership of such a scale, because it could jeopardize the commitment of our bank to operate as a company of the Economy of Communion.
It was exactly in this time period that we got to know that the French social incubator "EDM Entrepreneurs" was looking to work with social enterprises in the Philippines without imposing a participation in the capital on them. Therefore we organized a meeting with the Board of EDM in France and it resulted in a collaboration agreement in which, among other things, our bank was helped to institutionalize the principles and guidelines of the EoC in its procedures and to evaluate whether, as a rural financial institution, it was really able to influence social communities it was serving.
In February 2014, EDM sent Emma Stokking to Bangko Kabayan in the Philippines. She is a young French consultant, who analyzed the operations of the bank for two months and developed four projects of possible collaboration with EDM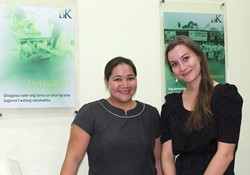 for the 2014-2015 period. The first was intended to make the management of the bank fully consistent with the principles of the "Guidelines for Managing an EoC Enterprise"; the second sought to define the social performance indicators to define other tools to assess whether the desired social impact would be effectively achieved; the third pointed to formulating a programme of internships that would be useful both for trainees and the company and the fourth was intended to reorganize the IRBFI Foundation, the social branch of the bank, created to support programs benefitting the community.
As technical support in banking, particularly in the field of micro-credits where Bangko Kabayan has made a great development, EDM has put the bank in contact with Micro Finance Sans Frontieres that offered the help of banking experts willing to work in specific missions on a voluntary basis. As a result of the initial assessment, Emma Stokking has developed a "self-assessment tool for EoC companies," available for those who want to analyze their conduct in this respect.