by Catherine Sallier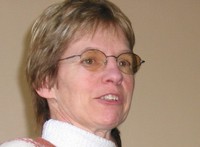 From "Economy of Communion – a New Culture" n. 35 - insert attached to Citta` Nuova n. 11 – 2012 – June 2012
I have been a professional beekeeper for 30 years in the Ardeche province of France. From my bees I gather honey and pollen, and a less known product called 'propolis.' In the beginning of spring, Celine, a young colleague, contacted me telling me in a forlorn way that she had lost all her bees during the winter, and asked me if I could give her ten colonies to be able to produce some propolis. It was a very difficult request, because propolis is a very rare and costly product obtained from particular bee swarms which need a great amount of technical work and must be looked after in a special way, but a small number of colonies is enough to make some profit.
My bees too were in a bad state and I hesitated to answer her. I would have liked to help, but did I have the necessary number of bees? There was another unknown: a swarm is a colony not yet in production; one does not know its potential and in spring it needs yet about six weeks in order to produce, while the propolis production season lasts less than four months. Celine, on her part, proposed to work for me so as to finance the bee swarm that I would give her.
Some weeks went by and I watched those particular colonies with great attention; I realized that the swarm would not be ready in time and perhaps they would not be any good,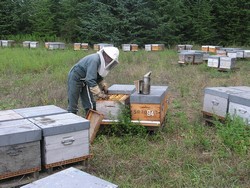 but Celine really needed to produce. I arrived at a decision: I wouldn't give her some swarms, instead, I would give her my colonies already into production, telling her: "With these bees, you can start producing tomorrow." Celine , stunned, brought home the colonies and I remained with my swarms, without the least certainty that they would be able to produce all I needed, and I also heard the disheartening news from my colleagues about their poor genetic potential.
Three months went by and it was August. Celine had reached her objective in producing the propolis she needed. Even I have had a successful season: all the swarms revealed themselves to be good ones and I produced more than the previous year!
I am simply very happy. I realize what it is like working without having a cash register: giving all that one can and living day by day, and at the right moment, the register in the sky opens up. It is truly the hand of God, the hundredfold! I have also understood that in the meantime, the Economy of Communion has changed me. Give and you will receive. And the more you give, the more you receive! I was already a member of the Focolare Movement when the Economy of Communion came about and I immediately felt that I was born for this life and that it was what I had always waited for. This experience has confirmed it for me.