Letters to the editor
From "Economy of Communion - a new culture" N.32 - December 2010
A voice on the phone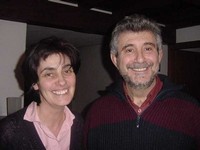 I wanted to share this page written in the diary of a young woman, employed in a factory that supplied materials to the business of Ezio Cereghetti, an EoC entrepreneur of Lugano, Italy, who died of an aneurism in June, 2003. She wrote this letter shortly before Ezio's death, but saved it for years in her diary. A few days ago, she decided to send it to Tita, Ezio's wife…who was surprised by the coincidence. The World of Life for that month just happened to be "Love your neighbor as yourself", which was the phrase of the Gospel that Chiara had given Ezio. I also think that this beautiful gift has arrived directly from Ezio, to help us to live reciprocal love, even in the EoC. Chiara always called us to live in a way that no one pass us by in vain. Maybe we won't be able to love always, to love everyone, but at least we have to try to love someone, as Ezio did with this young woman.
Luca Crivelli
"Good morning Ms. Calluso, I'm Cereghetti from Aircond, can I talk to Mr. Minini?"
"Good morning Mr. Cereghetti! Yes, just a moment, please!"
While passing the phone call, I thought, "What a voice! Each time I hear him, my heart is filled with peace and serenity." Ezio often called the business and exchanged these words with me. I would have liked to tell him something, to do something to hear his voice a little longer, because it calmed me down from the stress of work. Just one morning, after his usual phrase, he asked, "How are you?", and I answer, "Fine, thank you, and you, Sir?" "Me too, thanks. Is Mr. Minini there?"
There was something special about that voice and I wanted to know what it was. I asked my boss to organize a meeting at our business in order to get to know him better, but nothing was done. At work, the few colleagues that knew him personally said that he was truly a good person, besides just being very nice on the phone.
Then, one morning, our boss arrived in the office and told us in a low voice that Mr. Cereghetti from Aircond had died that very morning.My first thought was, "Who knows if he believed in God?" Then, another thought, "I won't be able to get to know him now." While I was thinking these things, I observed my colleagues. A heavy and sad silence had descended on the whole office. Some looked out the window; some stared at the screen or at the keyboard. It was as if one of ours had died. Another thought went through my head while observing the scene. "Yes, Mr. Cereghetti certainly believed in God. A person that almost no one knows personally and yet who left such a strong mark had to have believed in God in his heart." Then, a question, "But who was that man?"
It was a black day for all of us, and the mourning in our hearts lasted for various days. We avoided talking of him, but all of us were sad in our hearts. Only one colleague told me, "Your God always takes the best away!"
I was really sorry that I didn't get to know him, but in those first days after his death I remembered his voice and words well, and this consoled me.
One evening, while going home from work in the car, I wasn't able to hold back my tears because I was the first day that I no longer remembered his voice, and I knew that this was the way it would be.
Last Friday, I went to Fr. Carmelo's oratory. I got there early to discuss the youth activities. Fr. Carmelo arrived with a picture, and he told me that the picture was of his dear friend, Ezio Cereghetti, who had just died. I didn't think of Mr. Cereghetti who worked with us because Ricino is full of people with that last name, but when Fr. Carmelo started to tell me that Ezio was a focolarino and had started a business just shortly before, I understood that it was him.
In that moment, I was moved for two reasons. One was because I missed his voice. The other was because I had met that Ezio at the families' party organized by the diocese of Lugano in Giornico. That day, Erik and I ate lunch at the same table as Ezio's wife, Tita, and we had the chance to know one another. She insisted on us meeting her husband. In fact, she introduced us, but I didn't know it was "that" Mr. Cereghetti, and he didn't know that I was "that" young Ms. Calluso. We were simply Ezio and Maria. The next Monday, we spoke again on the phone, but without recognizing one another, and we continued with our usual phrases of "Good morning Ms. Calluso" and "Good morning Mr. Cereghetti".
Now I understood. Without knowing it, the Lord had heard me. Yes, I had the honor of knowing him.
Dear Ezio, pray for me because I, too, want to bring God to others as you did, with few words but "loving the other as yourself!"
Ascona, June 2003