The EoC in North America
By Joan Duggan
from "Economy of Communion - a new culture" N.32 - December 2010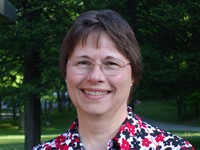 As we were preparing to share "the state of the EoC in North America," it was tempting to go directly to the pragmatic – how many businesses, how many interactions, how many members in the association, what about the business park. Yet, this information would miss the point.For someone to lives the EoC's lifestyle, it is a project born from a charism. It doesn't matter if you work in a business, own a business, purchase things from a business, or take care of a household.We are all EoC.
Luigino Bruni answered one of our questions at the EoC meeting in Rome like this: "charisms have long timeframes, century-long timeframes. As we believe that the EoC arises from a charism, we have to realize that we're still in the in the first half-hour of the first 24-hour day of its development…I'm certain that the youth will soon start new types of businesses which will not follow the classical form of entrepreneur-employee. They'll be businesses with innovative juridical structures of the economy of communion. We have to have patience..."
The economy of communion in North America is also in its first half-hour. We have one EoC board on the continent. Its members are located from the east coast to the west coast. There are six people on the board and we represent all the stages of business.
Similarly the businesses are widely spread out across the continent – we have approximately one business per million square kilometers. We are those seeds that need to be authentic reflections of the original inspiration for the EoC. Otherwise, we are nothing.
New businesses are beginning to spring up, nurtured with consistent interactions. As with everything in the EoC, relationships are key – just the opportunity to share daily dilemmas and successes are points of fraternity and increasing unity.
We made an important step two years ago and have on the board a member who is one of the youth that Bruni mentions as those who will be the catalysts for bringing about the "businesses of the Economy of Communion." This has broadened our horizons and enriched all. Then, we received a letter from a previous participant in our annual meeting held in 2008 who re-wrote the business' by-laws based on the presentation of the EoC business organizational schema.
We stay in communication through tag letters, quarterly conference calls, and scheduled updatings. Our annual meetings have grown in breadth and depth, offering contributions from entrepreneurs, academia, youth and interns. This year's meeting was entitled, "Business Practices in a Person-Centered Business."
In the last five years, the number of requests for seminars and courses at various universities has notably increased. They are events that generate relationships and exchange, not only among and with busineses, but also among scholars. During such meetings, students underline their hope for the future that the EoC project helps them to foresee.
The EoC internship program that began at Mundell & Associates has continued to grow, involving more interns and more businesses each year. This program gives interns the opportunity to work in an EoC company, gain valuable work experience and, in turn, give their contribution to enrich the business. From the perspective of formation, a Texas university has included a course on the Economy of Communion, which has successfully reached its fourth year. It has led to many projects, various website, chats, games, videos and more.
Our dialogue with academia has both broadened and strengthened in unimagined and providential ways. In June, 2009, Pope Benedict XVI gave his encyclical, Caritas in Veritate, in which he mentions the economy of communion (n. 46). This inclusion in the encyclical evoked widespread interest in North America. As a result, the participation in last year's annual EoC meeting was attended by many first-comers with lively academic panels, one on the theoretical level revolving around the encyclical and another on the practical, business level.
A number of those people came again in 2010 because, as one person commented, "there is something special here." The 2010 Annual EoC Meeting was co-hosted for the first time by the Catholic University of American in Washington, D.C. At that meeting, the university showed an expressed interest in investigating the possibility of collaboration between The Catholic University of American and The Sophia University Institute in Loppiano, Italy.
For the past couple of years, two professors from different universities have been collaborating on a research project aimed at beginning to answer the question: How do Economy of Communion companies in North America go about doing business? These professors have collected twelve rounds of survey data from fourteen companies and supplemented these data with onsite company visits and, in a couple of instances, group interviews of the business owners.
A glimpse into the preliminary findings shows that the EoC business practices are "cultural" and organic and that the human resource practices are "quite sophisticated" – novel – rare – but not unheard of. The results of these research efforts are being collected into a book, which is carrying a working title of "Seeds in the Wall: Business Practices of the Economy of Communion."
In October, the EoC was invited to participate in the blog talk radio show on American Muslim 360. This was a moment of rich dialogue and sharing which contributes to interreligious dialogue and building universal fraternity.
The EoC in North America is moving. As Luigino Bruni commented, "We cannot think about bringing about the EoC as if we had a business plan in front of us, where there is a project, and then we put it into practice." And we are only at the beginning. We will continue to live, listen, dialogue and build relationships. We are among those seeds that need to be authentic reflections of the original inspiration for the EoC. Otherwise, we are nothing.