The experience of microcredit inspired by the economy of communion shows that the personal relationship between officials and clients is a fundamental element for the success of the sector's development.
Proximity in Banking
By Teresa Ganzon
from "Economy of Communion - a new culture" N.32 - December 2010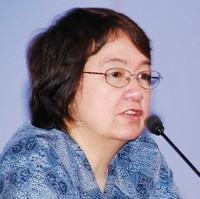 Bangko Kabayan is a rural financial institution established over 50 years ago (1957) in a small town in Batangas, a region that lies about 120 kms. south of Metro Manila in the Philippines. It remained a small, one-unit affair till it began branching in 1991 when the second generation of the family that owned it, pursued the Economy of Communion paradigm and decided in favour of growing the enterprise to be of service to a larger community as well as generate more profits to share with those in need. Being a rural bank, even one that was traditional in its outlook, BK's competitive advantage over the bigger commercial banks had always been its local knowledge and highly personalized approach to banking. Everyone in the bank was known to the local community and vice-versa. Clients, old and young, were called by their first names and tellers would chat and exchange pleasantries while servicing deposits or withdrawals.
Loan applications and payments would be accompanied by lengthy discussions of the family situation of the borrowers as they would explain their needs or why they may not be able to meet payment schedules. Numerous extensions were allowed, irregular payment amounts were accepted even if it meant re-doing amortizations over and over – or finally resorting to manual computations in order to make sense of the same.
In 2000, BK began offering microfinance services. In search for more innovative products and services, it adopted the Grameen model of group or solidarity lending which entailed organizing entrepreneurial women in the villages to form groups who would meet weekly, undergo training in social organization and center management. Thereafter, the members would be granted loans which they would co-guarantee for each other, making weekly payments that included contractual savings and the build-up of a group's own development fund.
A year later, the RBAP (the national association of rural banks) together with the USAID, would introduce another style of delivering microcredit to individual borrowers, in which bank account officer would individually approach the borrower, orient him in the product features and process his loan, monitor his weekly payments, etc. This approach was more suitable to the banking environment for which it was tailor-made and required no organizing into groups or weekly meetings.
Today, ten years after the introduction of microfinance services, Bangko Kabayan has about 9000 clients in the program and has released over $8.5M dollars in both methodologies of group and individual microfinance. More significantly, it has generated about $1.7M in savings from the same clients, demonstrating to one and all (especially to the clients themselves) the capacity of the marginalized sector to save.
Key to the success of its program is a system of high contact with the clients, not only of the loan officers but of other bank personnel as well. Bank managers, even as they manage a myriad of tasks, address each group or center that comes to the bank for the release of their loan, giving mini-inspirational talks to encourage the group in its endeavors. Supervisors visit the clients, especially in their moments of crisis (whether in their enterprise or in their family situation which eventually affects the stability of their livelihood), to try and help them get back on track. Senior management has learned to listen to the needs of microfinance clients, discovering in that sector a potential for higher financial returns if appropriate services are developed and adapted to the mass market that it is.
Needless to say, such high client contact in microcredit programs carry with them a higher cost of delivery on the part of microfinance financial institutions (MFIs). It is for this reason (recovery of costs) that interest rates on microcredit are higher than the regular, secured credit loans.
In recent years, various microfinance-enablers have funded research into various ways of mitigating the costs involved in the delivery of financial services to the poor. Among interventions explored has been the development of mobile phone banking in order to service clients in hard-to-reach areas. However, multiple challenges remain and issues such as inadequate network of available e–cash loading centers and cultural discomfort with transmitting money via mobile phones (minus the personal contact with the teller or account officer) have not been sufficiently addressed by technology solutions.
A Philippine commercial bank had announced a tie-up with their sister telco company, conceiving loan disbursements and repayments through mobile phone. However, nothing has been started yet.
For Bangko Kabayan, the issue of proximity (also a cornerstone of the Economy of Communion paradigm) has led it to contain its expansion over the last five years, within the province of Batangas. It chose to adopt a strategy of saturation – choosing to offer more services to a smaller number of clients over servicing a larger client base spread out in a greater geographical area. Thus, while the portfolio has steadily grown over the past 10 years, the number of clients has not increased in the same proportion. Rather, what has increased are the number of financial products available to long-time clients (working capital, educational, micro-housing loans and most recently, micro-insurance).
In an era of fierce competition and possible credit pollution in certain areas of its operation, the choice of strengthening existing relationships with clients over a period of time has perhaps contributed to BK's exemplary microfinance program.