A way for everyone
By Jean-Louis Plot
from "Economy of Communion - a new culture" N.32 - December 2010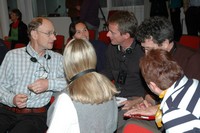 There is something that really touched my wife, Irene, and me about the economy of communion's proposal. It suggests a path towards answering two of the world's problems that we hold particularly close to our hearts: the scandal of poverty and the unfair distribution of wealth.
Our business currently employs thirteen people, while the economy of communion pushes us to "invent" new ways to make it function. We do business by putting the person at the center and inviting the Lord to work at the service of the unity we build among us, trying to put gift and gratuitousness at the center of our economic activity and everyday operations.
We are not part of the Focolare Movement or any other movement. We are practicing Catholics who are committed to our parish. In order to start walking along the path of the Economy of Communion, we didn't the need to be already familiar with the spirituality of the Focolare Movement. Instead, the Economy of Communion is the Focolare's proposal to the world that has set us upon this road. However, being on this journey for almost ten years now has led us to discover the spirituality of the Focolare, the value of gift and of the unity through which Jesus makes himself concretely present in our midst, and the communion with "Jesus Forsaken" in times of trial. A little at a time and with amazement, we have discovered these spiritual roots because going ahead along the road of the economy of communion inevitably brings us to live the charism of the movement.
Given that the economy of communion grows – I think that it is called to this today – we cannot be afraid of offering it as an answer to the fundamental questions of today's world, an answer that is open to all, that addresses those questions that resound in the hearts of many entrepreneurs!
The EoC is open to the world yet maintains its identity: the economy of communion is inseparable from its spiritual roots. It leads directly to its goal of no poor among us!
I sincerely believe that for the economy of communion to continue to exist, it must grow, and that is why it's necessary to unite all entrepreneurs in the search for a new path for us all to follow. Chiara had the prophetic intuition of this path, but there is still a good part of it to be discovered.