Love everyone
from Economy of Communion - a new culture N.32 - December 2010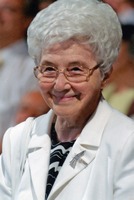 The culture of giving does not only mean
giving profits,
or giving something,
jewelry, land, houses.
It's not that.
It's that kind of giving which we have learned from the Gospel: it means loving everyone.
Therefore, it's the culture of loving:
loving your employees,
loving your competitors,
loving your clients,
loving your suppliers,
loving everyone.
Everything should change about
the business lifestyle:
everything should be of the Gospel.
Otherwise it is not economy of communion.
Prague, April 30, 2001
Chiara Lubich