The entrepreneur and poverty
Luigino Bruni
From "Economy of Communion - a new culture" N.31 - May 2010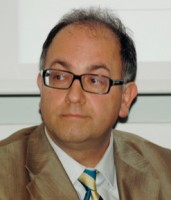 "Blessed are the poor" is one of the phrases of the Gospel that is addressed to everyone, as are all phrases of the Gospel. There is beatitude, blessedness, in poverty. But what type of blessedness, and why?
It's clear that not all conditions of life which we call poverty, either yesterday or today, are blessed or happy. In fact, the poverty of exclusion, of both present and future radical insecurity, the absence of rights and of freedom, are certainly not happy states. So then, what kind of poverty is or can become a beatitude?
I believe that there is a condition, mostly spiritual, that impedes us from feeling secure and self-sufficient without having to depend on anyone and anything. When we no longer feel fragile and in need of help, when a bank account and secure job give us (or promise us) self-sufficiency and independence from others, then we are no longer those poor that the Gospel calls "blessed".
This dimension of poverty depends on and is linked to all the other beatitudes (either we live the all the beatitudes or we do not live any of them). Only he who is pure, meek, a builder of peace, persecuted for justice, can first understand and then live life with this poverty and desire the Kingdom. When, instead, goods give us the illusion of not having to depend on anyone, of being free from ever stronger relationships with others, then the rich man merits the "troubles" that follow in the discourse on the beatitudes.
Goods, not only economic ones, bring happiness only when they are ways of meeting with others, when they are lived with chastity and not used to immunize us from true and profound relationships. This immunization is the rich man that does not enter into the Kingdom. He does not enter because he does not see it and does not understand it (it is impossible to not want to enter into the Kingdom of Heaven if we see it and understand!). The Kingdom of Heaven belongs only to these poor.
The entrepreneur, too, is called to live this kind of poverty, if he wants to be an EoC entrepreneur. This poverty is not only spiritual detachment but much more. There is detachment from his role, from power, and perhaps from certain comforts, even when all of his colleagues consider them normal. Then, there is concrete detachment from money, when, at the end of the year, he gives part of his profits to further the goals of the EoC. These donated profits, which are not put in the bank, make him more vulnerable (therefore, these choices are always delicate in a business - not finding oneself a burden for others is a form of love and of responsibility). These donated profits put him in conditions of greater dependence and vulnerability, especially in difficult moments and in crises. Economic life, especially that found in a business, is made of uncertainty and risk, and the success and profit of entrepreneurs depend on clients, suppliers, employees, and more. Today, if we look at the world's millionaires, they are rarely entrepreneurs. More often, they are speculators, managers, or heirs.
The entrepreneur by vocation, at least as seen in civil tradition and according to the Church's Social Doctrine, is a builder and an innovator. He is not a seeker of income and position and a consumer of luxury goods, and if and when he becomes so he betrays his social function. From this perspective, one can understand why, in the Middle Ages, merchants were numbered among the poor because, unlike property owners, their wealth was always fragile and subject to the protection of contracts and chance.
This fragility and uncertainty alone, however, are not enough to put the EoC entrepreneur in the beatitude of poverty; something else is needed. For example, giving profits for use outside of the business is an act of great poverty on behalf of the entrepreneur. It almost seems to go against nature, as the entrepreneur has the instinct to build his business. But this giving has great ethical and spiritual value, similar to the situation in a world where when you can buy almost anything with money, money tends to become everything. Instead, underlining with action that money can be given, reminds oneself and everyone that the most precious goods are those other people, that a "beyond" exists outside the gates of the business - a Beyond for which it is worth to spend not only money but all of one's life.
Providence, which is often evoked in the EoC, and with reason, also means seeing that surprising dynamic where a person gives everything and then, with the same poverty with which he gave, can ask everything. It is "the love that asks everything and gives everything", as a song from the early times of the Focolare Movement says. I can ask everything from the others, from myself, without expecting anything, with the same pureness and detachment from which I gave everything, if I have first given everything with Evangelical poverty. Only the entrepreneur-poor person knows Providence.
"Only now that I, an entrepreneur, find myself living in poverty, do I truly understand the condition of those who I tried to help with my profits for so many years", an entrepreneur told me a few days ago, during one of the deepest and most true moments of communion I have experienced in these last few years. Sometimes the circumstances of a serious economic crisis leaves an entrepreneur poor. In other moments, it can be a natural disaster or an instance of slander, or an illness or a moment of exhaustion. But if an entrepreneur and any actor of the EoC does not experience this poverty in his own life, in his own flesh and intelligence, his "help" will inevitably be immature (even in good faith), paternalistic, not very Evangelical, as only a poor person can help another poor person with dignity and respect. Today, this type of entrepreneur is emerging from the EoC; a merchant that Jesus does not send away from the temple, because he is a poor person who can, and should, feel himself "blessed".