Years that have been anything but comfortable, but yes, happy, in this "multicultural" business
Ten Years of Tergon
By Giuseppe Argiolas
From "Economy of Communion - a new culture" N.31 - May 2010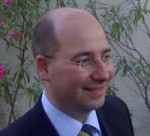 Waldemar Silfest, previously a bank director, and Georg Endler, with experience in the office furniture business, are among the founders of the business that began around 2000, initially with 200,000 Swiss francs from about 100 shareholders, residents of Germany, Switzerland, Italy, Eqypt and Romania.
The formula chosen was that of a financial institution, Tergon Spa, which would place the necessary capital at the disposal of the operative company, Tergon Srl, to carry out the production of high-standard ergonomic chairs.
Right away, founders decided that the business would adhere to the Economy of Communion project. Georg Endler remembered, "In Tergon Srl´s statutes, we decided that profits would not only serve for business development and earnings for Tergon Spa shareholders but also to help those in need and to support the School of formation at Montet."
Montet is the international small town of the Focolare Movement located in Switzerland, begun with the special purpose of forming youth and the less young to a culture of communion. The business is located in Montet to offer a paid job to the youth that stay there for around a year.
In 2000, the prototype of the Tergon chair was made and, with it, an entire range of high-quality ergonomic office chairs (www.tergon.ch). Commercialization began in 2001.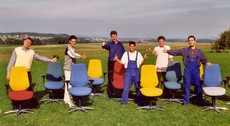 It was not an easy moment. The events of September 11 triggered an economic crisis that paralyzed various sectors. Clients were more prudent and sales struggled to take off. "It was the most difficult moment," said Waldemar Silfest. "One night, I woke up with a question: 'what if we had to admit defeat in front of our shareholders, informing them that they had lost everything?' We had started this to do something for God...and now, full adhesion to love in these truly unexpected circumstances was needed. For me, that was the true birth of TERGON."
The turning point came when continuing to believe was a heroic act. They were able to go ahead thanks to new shareholders, to a new sales strategy that increased orders and with the sacrifice of leaders that worked on symbolic stipends in order to allow the business to survive without cash assets.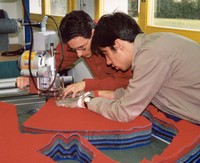 More efficient production and an increase in sales gave breath back to their hopes. In 2005, the business produced 3,573 office chairs, invoicing a total of 1,415,000 Euro. That year, the budget balanced for the first time and, with satisfaction, Tergon gave 5% on the capital invested to its shareholders, who had supported the project with faith and patience. Today, the social capital of Tergon Spa is one million Swiss francs, nearly 700,000 Euro.
For a few years now, the business is able to regularly share profits according to the goals of the EoC project, but "the biggest challenge," explains Christoph Hohl, "is not putting the profits in common but uniting communion and economy in a balanced way. We realize that we have much to improve, but at the same time, when we´re able to do it, this is our biggest joy."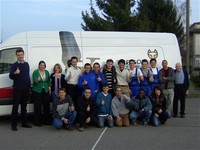 And Waldermar Silfest underlines, "Economy of Communion, before putting profits in common, means cultivating fraternal relationships, working responsibly together to produce profits, practicing a management style that places the person at the center and involves all persons who take part in the business."
For Georg Endler, the biggest challenge is not judging others. "It seemed like I could only see the others´mistakes, and these thoughts were turning into prejudices. I tried to dialogue with my colleagues and with God, ...the result was finding solutions at the right moments."
To promote communitarian management of the business, leaders meet every month in a "workshop" with EoC entrepreneurs as external consultants who gratuitously place their time and capabilities at the disposal of Tergon. They face questions. They make important decisions together to start again with new inner freedom and renewed courage.
Right now, in the Montet establishment, there are three managers, seven employees and ten part-time students. Outside the headquarters, there are seven sales representatives and four telemarketers that sell in Switzerland and Germany.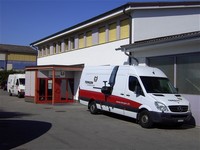 Edi Rieder, responsible for production, plays that challenging role of transmitting technical training and integrating the students that work in the various sectors. "Every year is a challenge because the youth change and we have to start from the beginning. I feel that my main role is that of welcoming each one of them, attentively, keeping their cultures and personalities in mind, as they come from all over the world. At the same time, I try to aim at more efficient production and real customer service.
Personally, I can say that I´ve received more than what I gave! The experience in these years shows me that each one of them, and all of them together, are the true wealth of Tergon."
In 2009, 4,882 chairs were produced, invoicing a total of 3,132,435 Swiss francs, nearly 2.2 million Euro. This year, Tergon celebrates 10 years of activity and we asked Waldemar Silfest about the secret behind Tergon´s success. He answered with certainty, "It is the fact that we believed in a plan of God, and we worked with faithfulness to help it come about."