The EoC in Singapore
By J. Nicolas Iturralde Vasco
From "Economy of Communion - a new culture" N.31 - May 2010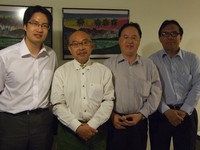 The small country of Singapore could be defined as the Switzerland of Asia. In spite of the crisis in the last few years, noticeable in the hundreds of small and large boats stopped in their paths in the harbor, waiting for maritime traffic to resume, the city continues to grow with always more modern and bold buildings, and with tourism facilities that adjust to the tumultuous economic development of surrounding cities.
The Economy of Communion has also arrived here, with Gelato Sole, a business specialized in ice cream and begun by an Italian EoC entrepreneur, Luigi Nodari, and his children. In Italy, the Nodaris run their business, the Baia Azzurra Hotel and an ice cream shop, on the edge of Garda Lake.
Another business is Focus Pte Ltd, which is four years in running in the import-export business. Now, it is orienting itself as a Business of Equity and Solidarity to help the areas of Indonesia that were hit by the tsunami. It commercializes very beautiful batik hand paintings, produced in the village of Yogyakarta, by the "Hasta Kancana" cooperative, which begun thanks to a project developed by Action for a United World.
Finally, there is also Consulus (www.consulusgroup.com), a business specialized in business strategy with clients in the USA, China, India and Australia, and offices in Singapore, Malaysia, Brunei, the Philippines, Vietnam and Japan.
"We´re a business that helps businesses define their identity," says Lawrence Chong, its chief executive. "We associates decided to create a different kind of business, to offer a new kind of consultancy. If individualism is the rule in other businesses, we have decided to become a community, despite the diversity that distinguishes us. We´re different in age: one is nearly sixty years old, three are around fifty, and one in his thirties. One is Muslim, one is Buddhist, one in Methodist and two are Catholic, but all together and by God´s grace, we bring ahead a new way of working, inspired by Chiara´s vision. We started in 2004, and now we work on the international level with 35 collaborators.
After six years of experience, last year, we wanted to specify the foundations of our business identity in a document that begins like this:
"As members of Consulus, we declare our priorities to be unity based on reciprocal love, sharing of property, justice and equal opportunity. We propose to be humble towards one another and open to Providence. These principles should continue to have value for the future as well."
"As the only member of the Focolare Movement in the business, I am marveled that people outside of it embrace the value it has in the economic field and make the experience. Every Friday from the Singapore office, we connect with the other offices through Skype to share experiences. Once a year, we ask each person to write his experience regarding our values. One employee wrote, "In Consulus, we try to be open to others, postponing our work to help a colleague, updating each other and in small things, like taking turns buying food for everyone. Someone offered to send my letters, a simple act, but one that gave me joy."
The spirit of unity is much help because each one of our projects requires the collaboration of everyone. Tensions are reduced and synergies improve, things that are necessary in a very competitive environment.
This spirit also helps us to make the right decisions. Recently, the government has been offering contributions to improve businesses´ capacity. We had been following a project for a business for awhile, but this business wanted to plan itself in a way that it would not have to carry any of its own (financial) burdens, which we considered unjust. So, although we needed the work, we refused to bring the project ahead. A few days later, we were assigned another project worth the same value. God keeps his promises.
It is impressive how people notice our lifestyle, even if we do not speak about it. In a seminar on building a business identity, one participant said, "The workshop and the Consulus team helped me to understand how, in order to build a solid business image, an internal culture is important."
I think that this way of working explains our fast growth and how, even while being small in dimension and without financial resources, we have been able to attract many talented people and partners. I know that this is due to our unity and the Providence that knocks on our door in many ways. It is up to us to be attentive to welcome the new phases of the business plan that God has in store for us."