Utopia in Action
By Alberto Ferrucci
From "Economy of Communion - a new culture" N.31 - May 2010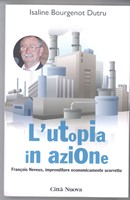 In the early 90s, I was coordinator of international relations for the Economy of Communion project. Hundreds of businesses in the world had immediately adhered to it and the Polo Spartaco near Sao Paulo was already beginning to take form as the first grouping of businesses that participate in the project.
I then received a letter from François Neveux, a French entrepreneur who, with his typically direct style, expressed his desire to gratuitously make the technology and patents he had developed over the years available to the Economy of Communion project.
He had already sold these to various European and Middle Eastern businesses that had made them the foundation of their success, but he said that if an entrepreneur wanted to start a new business in the Polo Spartaco, he could have them for free.
He had turned to me because it seemed that the Brazilian entrepreneurs did not know how to appreciate his offer, and I invited him to join me at a congress of Brazilian EoC entrepreneurs that would shortly take place so that he could present his technology and their industrial possibilities to them.
During the congress, a new shed in the Polo was to be inaugurated. It still did not have a business signed on to use it. Ginetta Calliari, one of Chiara's first companions, with inspired certainty, affirmed that this construction would exist even in the new heavens and new earth because it had been born out of love.
At that point, François announced that he would use that shed. It was his hurried way, as an entrepreneur, deciding from an intuition and then knowing how to balance the budget of the business he had dreamed. He would begin a plastics manufacturing business using his technology of rotomolding (rotational molding), calling the business Rotogine in honor of Ginetta.
I therefore met François in his highest moment of social commitment, understanding the journey that had led to his "craziness" only years later when I read the fascinating account of his life, written by Isaline Bourgenot Dutru.
After having been translated in Portuguese, the brilliant and anti-conformist style of this book was translated very well in the Italian language by Prof. Alberto Golin, whom I want to thank.
It is an account that draws the reader in through François' easy-going way of never stopping in front of any obstacle, from his love for his neighbors in need, which had led him to autonomously making important business attempts at the service of those in need.
It was a deep need of his, and he saw the chance to fully concretize it through the Economy of Communion, so much so that he dedicated all of his economic and inventive resources to this in the last fifteen years of his life.
He did this by using that Art of Getting By, which had fascinated him as a boy while reading Daniel Defoe's Robinson Crusoe, and his various industrial patents show that he applied it throughout his life. It is an art that, as he wrote in his high school graduation exams, he did not see so much as a talent but rather as a gift from on high, given to overcome everyday challenges, given to every man and women who works out of love: "You give, and you are given to".