Readers´ Mail
Alberto Ferrucci
from "Economia di Comunione - una cultura nuova" n.28 - December 2008
Fruits of a dissertation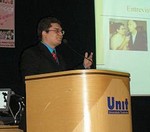 I'm 25 years old and I have a degree in Accounting. I had always doubted that I could dedicate myself to work for my desire for a more just and fraternal society, studying the discipline I chose. Once I finished all the exams, I wanted to write my dissertation on "EoC – new paradigm in result management" and since no one of my professors knew the EoC project I convinced my future dissertation chair to participate in the EoC convention at the Focolare small city of Santa Maria. In that occasion there was also going to be the inauguration of the Industrial Park Ginetta.
During the two days of the meeting my professor listened to those who spoke and interviewed businessmen and each moment was welcomed by her as an unexpected gift.
When I discussed my dissertation in front of my professors and academicians of the accounting department, in the presence of my family, I felt strongly the profound unity of the other Gen, also present. When we went for a pizza afterward my chair was saying how happy she was to have met this new life style that she had always been searching for.
Alter a few months she asked me to help her in the presentation of the EoC to the new students of the accounting department of the University of Tirandentes. I was very surprised of her description of Chiara's EoC principles, while she was projecting the EoC logo and her thanking me publicly for having introduced her to it. I was feeling that there was the beginning of the "inundation" , in the field of accounting.
The University of Tirandentes then invited me to present my dissertation to more than 300 people, among whom the Chancellor, professors, academicians, in the occasion of the "Accountants Day".  That time I was feeling I had become an instrument of the Holy Spirit to bring the gifts of the Charism to all those people.
At the end everyone thanked me and my dissertation chair promised she would introduce the EoC to everyone without distinction every time it was possible. To see a person like her welcoming with such depth the EoC message was for me the most beautiful moment..
Rodrigo Dias de Oliveira
Aracaju, North-East of Brasile
From the Convention on Work
I had always thought that when I did not receive what I had given in a relationship, that "I had not done my part well" and that the problem all depended exclusively on me. I had also heard that those who "lose" their ideas or those who  do not "respond to provocations" is a weak person.
Alter I heard Luigino Bruni's theme "to Work Out of Love" this conviction of mine was turned upside down and I felt lifted up. In one passage Luigino says that work is really work when it is done as a gift to the others, when our work activity is at the service of others. He also said that when my work is done "well" it can be a gift also for the person I may never meet or with whom I do not have a direct contact. Therefore the purpose of my work does not have to be evaluated by a "positive return" but by the quality of my relationship with those who are near me and with whom I work daily.
Marisa Pareti 
Roberto Tassano Consortium
From this Meeting I understood that to work in a EoC enterprise is not to work for a specific business but, together with the others, to spread a new culture of "work as a gift". It is a "vocation" in the sense that those who are part of the business, besides doing their specific job, they are called to place at the center of the work dynamics the person, not depending on their business role. They are called to give value to "qualitative relationships", an "invisible" and not very important datum but in reality very basic.
Even tiredness, misunderstandings, (inevitable)discouragements, viewed in this manner are no longer obstacles to deepen relationships and to make it possible to "work in fraternity", that in fact they become the occasion for their accomplishment.
After the meeting we reinforced the idea that there is only one way to realize all this: to see all things in communion. This is why we felt the need to meet periodically so that we could live together our daily lives and to remember for whom and for what we are working.
MariaTassano
Roberto Tassano Consortium