Appreciation for the EoC and its protagonists
By Antonella Ferrucci
from "Economia di Comunione - una cultura nuova"  n.28 - December 2008
The Argentinean Government confers an honor to Cristina Calvo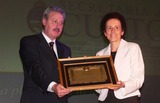 On the 25th of November 2008, on the occasion of the anniversary of the "Universal Declaration on the elimination of intolerance and discrimination because of personal convictions", the Argentinean Ministry of Foreign Affairs, through the Ambassador Guillermo Olivieri, conferred honors to renown V.I.P.s, among whom Cristina Calvo a focolarina, member of the International EoC Commission, director of the Caritas for Latin America and of the Latin-American committee of the World Conference on religion and peace, "for her commitment, both in the country as well as internationally, for her promotion of a pluralistic and inclusive society and for her work in building peace, dialogue and in the promotion of the inviolable rights of people".
Prize of the Agrofilm 2008 to the Video "Economy and commion meet"
Agrofilm 2008, an International Film Festival called "Bread and Peace for all the peoples" was held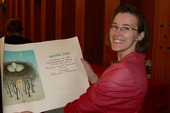 last October in Nitra, at the Center for Agricultural Research. The event was sponsored by the Ministry of Agriculture and the Environment of the Slovak Republic with the auspices of FAO.
Purpose of the Festival is to promote and spread new approaches and ideas in science, ecology and in the realm of problems and issues relating to rural areas and the life of the people living there, in the protection of natural resources and for the improvement of the quality of life.
One hundred and eleven films were presented, from all over the world. The Agrofilm 2008 jury selected 45 to see for the competition, and 39 as resources for information, conferring finally its diploma to "Economy and Communion meet" produced for the International Association of the Economy of Communion by the English Company Charism production, with the intention to document the state  of the art of the EoC project 16 years from its beginning, both from profile of the economic development and its cultural elaboration.
Doctor Mária Calfová, member of the Slovak committee of the Economy of Communion accepted the diploma conferral in the name of Charism and Production and of the Economy of Communion.

To "Civil Happiness", the silver of the prize "Templeton Enterprise Award"
Last November on the 18th, at the New York University, Luigino Bruni was awarded the second prize of the "Templeton Enterprise Award" for his book "Civil Happiness: Economics and Human Flourishing in Historical Perspective".  The book expands on the content of his other book "Economy, Happiness and the others" (Cittá Nuova, 2004). The author was the only non-American among the 6 who received an award (3 for the article category and 3 for the book category).
"I'm very happy about this recognition – said the author – especially because my book draws away from the pro-market positions of the jury. We were in the heart of Manhattan, at the NY University, in front of St. Patrick Cathedral.
My book's cover was projected in a gigantic form on the screen on the stage where they held the ceremony.
There were 200 people, all dressed in evening attires, and we began with the American National Anthem sung by a soprano.
Sr. Templeton Junior, the current president and the board of the Foundation were also present. For me the beautiful thing about this award was that the book is dedicated to Chiara Lubich and it was translated in collaboration with Kitty Cocco Wolf, an American focolarina who reached heaven this Summer. I'm sure that both of them were spiritually present and rejoiced for this award. For this reason I want to dedicate this award to Chiara and Kitty."