The experience of Teresa Ganzon, a Philippine Banker and member of the International Commission of the Economy of communion
A New Way to Be a Bank
by Teresa Ganzon
from "Economy of Communion - a new culture"  n.28 - december 2008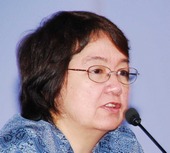 On 2 February 2008 I was invited with my husband Francis to present in Paris our experiences with our rural bank, the Bangko Kabayan, to the UNESCO forum  "Economy of Communion and organised Micro finance", in
front of  approximately 500 participants. This trip allowed us to hear the testimony of a group of French EoC entrepreneurs from two faith-based communities: Focolari and Emmanuel.
It was new for us, since we had always associated the Economy of Communion to the Focolare Movement. To have become acquainted with this model has reinforced in us the possibility of expanding our economic proposals to those with whom we feel close to in the spirit of the Economy of Communion, even if they are coming from different communities of faith.
In June 2008, as a member of the "USAID MABS-RBAP" project on individual micro financing, I was assigned to participate in the "Global Summit for Women" in Hanoi and to explain micro finance as a new form of investment. Present were approximately 1000 various delegates from all over the world, including several ministers.
I briefly introduced the experiences of the Bangko Kabayan, concentrating on our services and in particular on the programs for organised groups of micro-entrepreneurial women. As I pointed out at that time, the philosophy that allowed a traditional rural bank such as ours to move from an approach oriented towards  guaranteed loans to an approach towards non guaranteed loans for the poor is rooted in the Christian values of sharing typical of the Economy of Communion.
As a consequence of this new approach, we have adopted a strategy of wider participation, including a basic formative educational program for entrepreneurs. This has resulted in a growth of the enterprises of many our customers. At the same time  solidarity amongst them has grown. Now they are more independent, more able to manage their budgets, and are earning respect in their communities. Additionally, due to their ability to access banking services, their family incomes have increased.
Through the many relationships with special people whom I have met in those days, I now understand that I was not sufficiently aware of the importance of gender issues in the work place, despite the fact that I am a woman and a large percentage of the staff of the Bangko Kabayan is are women. For example, we attempt now to ensure a flexible schedule for young mothers and help them to find medical services and educate the male workers on these kinds of issues, etc…
José Ignacio Mariscal and Laurent Mortreuil, president and general secretary of the International Union of Christian Entrepreneurs (Uniapac), have expressed the desire to meet some entrepreneurs from the Economy of Communion, when they travel to Asia. They were interested to learn more about our proposals and to establish contacts within local organizations that share the values on which Uniapac is based: the centrality of each human in the enterprise, the universal destination of the goods, the subsidy, the solidarity, the preferential treatment of the poor, etc.
In June 2008 we organised in Manila a combined EdC - Uniapac Forum, in the course of which we had the opportunity  to meet other entrepreneurs - we were some thirty in all. The exchange of experiences we had with them has enriched us in several practical aspects of our business life.
One example is that of our relationships with our employees. Wanting to put these relationships at the centre of our job, in our enterprise we try to make sure that every employee has a personal talk with their supervisor at least two times a year. We are not always certain that this happens because it is not a written rule. We have found interesting the experience of an enterprise of José Mariscal, in which  every employee  is asked  to complete a form containing all the relevant information of their history and their family so that their supervisor can always be current on their personal situation and their lives and can take these factors into account when dealing with them.
It really was an opportunity for us of the Philippines EoC to open up to other experiences and other realities with which we have values in common and to whom we can propose our economic style.