My encounter with Chiara
by Stefano Zamagni
from "Economy of Communion - a new culture "  n.28 - december  2008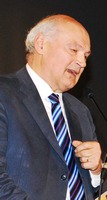 It was through a meeting of the Economy of Communion that I met Chiara almost 15 years ago. That meeting laid the foundation for a deep and fruitful friendship. Much has already been said and written about Chiara, her Charism, her thought and her work. Although I'm in a deeply emotional state, I would like to add a few lines to the already ample literature around this human figure, truly extraordinary. It is truly a privilege to speak, very briefly, about those characteristic traits of her personality, that were out of the ordinary and that struck me the most and stayed with me.
The first is her sensitivity that was like a declaration of trust in life. A person who is sensitive pays attention to and reveres others, is ready to see, is interested in new discoveries. Chiara chose to elevate sensitivity to an operational principle for the Movement she founded. An eloquent sign of this concept's importance to all the Focolarini is the very special attention they give to caring for everything that is beautiful as a way to regain truth and goodness. You may recall the famous sentence by Hans von Balthasar: "in a world without beauty also goodness loses its attraction...  In a world that believes it is incapable of affirming beauty, the arguments in favor of the truth also lose their strength".
Chiara made this sentence her own and tranformed it into good works.  Precisely because Chiara was convinced that only beauty attracts love, she dedicated a great deal of energy to put us on our guard against one of the most insidious risks of our civilization -- that beauty be reduced to nothing more than a consumer good from which we seek immediate enjoyment.Chiara's love for beauty does not come from a vague esthetic sense; rather, it is an expression of her deep realization that ugliness in our cities and in our living places tends to produce moral ugliness. This is how I have come to understand the space and attention devoted, within the Movement, to various artistic expressions, from music to theater, from painting to literature.

A second characteristic of Chiara's was her growing attention toward ways of thinking and toward culture in general. Chiara showed us what it really means to promote culture. Culture is like a tree; it is something that must grow. Thomas Elliot admonished us that we can't build a tree; we can plant it and then wait for it to mature in due time. However we can take care of it and accelerate its growth. The birth of the new Sophia University is just the last of her unimaginable realizations. The fact is that Chiara had understood, since the beginning of her walk of faith, that it is knowledge which creates love. The love that comes from need is frail: the love that comes from knowledge is overabundant. In large portions of our contemporary conscience, God is neither affirmed or denied.  Rather He is restricted to the past in the sense that any question about Him today generates no interest, neither cultural nor emotional.  God could very well exist, but we don't care. It is against this sort of spiritual numbness the Chiara's words and actions have been especially effective, most of all at the level of dialogue about the economy.
Finally, the patient yet tireless fight against the pseudo-culture of the catastrophe and of our whining and complaining is the other aspect of her message and of Chiara's legacy.  Chiara had well understood that as bad a person can be, he or she is not capable of absolute evil. And therefore it is senseless to give into the desperate conclusions by Kafka according to which "there is a point of arrival but no way to get there". For the Focolarini there is a way to get there and it is to bring into the agora, not only the themes of justice and freedom, but also the theme of brotherhood, and, further, to bring into economic sphere the theme of reciprocity as gratuitousness. In truth, if politics' role is taking care of human beings, then its foundation has to be explored in the idea of "staying with". On the other hand, if the ultimate purpose of the economy is to prepare the conditions to make life happy, that is, human, then in order to understand the profound identity of the economic behavior, we need to adopt the perspective of the person who takes action. We cannot reach this deep understanding if we hold onto a neutral, third person perspective, as used in the doctrine of natural law, or if we remain like the impartial onlooker found in the many types of contractual forms.  The political movement for unity and the economy of communion are mature fruits of Chiara's original vital and generous inspiration. She was never satisfied with charity as philia although she did not disdain it. The great contribution Chiara offered to the culture of post modernity is that of giving back charity as agape to the public sphere, after modernity enclosed it within the sphere of the private realm.
I would like to end with an epigram that Göethe placed on the lips of the angels as they tore away Faust's soul from the demon's clutches: "Those who make the effort to continually advance are those we can save". Chiara made the effort to advance--always and constantly--and now she is among the blessed. Praise be to Her and to her witness of life, so that more lives like hers may be generated in those who follow her footsteps.