Greetings to Chiara
from "Economy of Communion - a new culture " n.28 - december  2008
Rome, Saint Paul's Cathedral
Chiara Lubich's Funeral Services
March 18th 2008
Benedict XVI remembers Chiara Lubich in a letter to Cardinal Bertone.
". . . There are many reasons for thanking the Lord for the gift given to the Church of this woman of intrepid faith, humble messenger of hope and peace, founder of a vast spiritual family that embraces many fields of evangelization....The thought of the Pope was her source of direction and guidance. Moreover, looking at the initiatives that she gave rise to, one could affirm that she had an almost prophetic capacity to intuit and anticipate the thought of the Pope in her actions. Her legacy now passes onto her spiritual family: the Virgin Mary, a constant model and reference point for Chiara, help. . . contributing to make the Church. . . to always be more home and school of communion."
Card. Tarcisio Bertone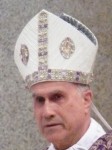 "The XX century is the century in which God gave life to countless heroic men and women. . . Chiara Lubich found her place in this constellation with a silent and humble style,. . . gave life to people who would themselves be love. . . In Brazil, in order to meet the needs of the many who lived in poverty on the outskirts of cities, she launched the project for an "economy of communion in freedom," giving rise to a new economic theory and praxis based on fraternity, for a sustainable development in favor of all. May the Lord grant that many scholars and economic experts take on the economy of communion as a viable resource to shape a new shared world order!"
Recife, Brazil, Catholic University of Pernambuco
Commemoration of Chiara's Honorary Doctorate in Economy
May 29th 2008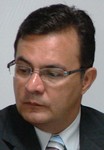 Pedro Rubens Ferreira, SJ Chancellor of the Catholic University of Pernambuco:
"Chiara Lubich "promoted justice" with a live spirituality and with vigorous actions, having an influence on the economic order to correct the selfish drift imposed by capitalism and to re-invent solidarity, the richness of our ancestors and of the early and medieval societies. With a Jesuit expression she was a courageous "contemplative in action" in a systematic research through the various field of knowledge, how to overcome poverty."
Roberto Cintra, professor of the Catholic University of Rio de Janeiro "The Light God gave Chiara is capable to respond to all the questions of the people of today and of always".
Genoa, Ducale Palace
Commemoration of the citizenship award
29 November 2008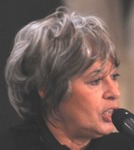 Marta Vincenzi, Mayor of Genoa:
"the challenges of the present time cannot be resolved by politics or by the traditional economy, but by universal brotherhood sought and pursued with passion and radicalism. . . in order to put together all human beings and overcome diversities. Chiara, extraordinary woman, like other women from Genoa were, from Saint Catherine to Saint Virginia, to extraordinary figures of lay women. . . who made of Genoa a city in which voluntary activities are a strong factor. . . thanks to Chiara for her message".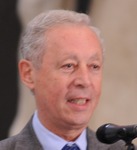 Alessandro Repetto,  President of the Genoa Province
"Chiara's exalting message of simplicity, that has made human the Christian message to the point of making the concrete entity of the Roberto Tassano Social Cooperatives, a masterpiece realized by the Movement with the Economy of Communion. We still need Chiara so that human relationships will always be beautified by Love".

Maria Voce:
"I'm happy and honored to be able to represent here the whole world-wide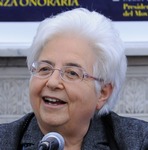 Focolare Movement at this ceremony to remember the encounter of 7 years ago between Chiara and the city of Genoa. It is not just a way to remember Chiara but it will be a matter of taking in her legacy which today lives and generates fruits more than ever. It is a legacy made up of an inexhaustible ability for positive actions also within the hardships and potentialities of today and of a profound mysticism, the experience of God-Love shared with many others.
That day much was said by Chiara and about Chiara. From those words it apprears clearly that there was a strong bond between her and this city. It seems clear that she succeded, as many other great souls did, to enter into it and to discover its soul....  The gift that I would like to leave here for all of you, for this beloved city of Genoa, is the attempt to draw, looking at how Chiara acted, a strategy of how to encounter the city, any city".