Spirituality and Economy
The identity card of Christians
Comment on the Word of Life, January 2011: "The community of believers was of one heart and mind, and no one claimed that any of his possessions was his own, but they had everything in common" (Acts 4:32).
By Alberto Ferrucci
Published in Città Nuova n.24/2010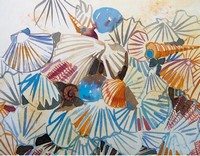 The "magic" of being "only one heart" among human beings, each different from one another, is a rare privilege. It's the anticipation of a life that is not of this world, the inheritance of the Incarnation. Before being put on the cross, Jesus left a way to reach this goal: "Love one another as I have loved you", ready to give one's life for his friends: the New Commandment.
Reciprocal love is not loving the other as yourself. It is a more attentive, delicate and total love, because giving one's life means setting aside your own ego. And in order for love to be reciprocal, the other's response is needed, and it is necessary to leave him space to reciprocate, if he wants, in the same measure. When the other reciprocates, it's like when an airplane breaks out of that layer of clouds and the sun continually shines above. You enter an atmosphere in which, even if you are very different or have just met, you are fully in tune with one another. Everything falls into place, your heart "burns in your chest"; you're ready for heroism and extreme generosity. No longer blurred by preoccupations or distractions, you enjoy your nature as children of God. When one has already lived this experience once, he wants to be able to repeat it, even if he knows that he needs to pass through the narrow gate to erase every judgment against the other and die to his own ego.
This can happen in church and in the convent, but it can also happen in the factory, on the train, in the office, in Parliament. The beautiful thing is that it is a gift for everyone, men and women, young and old, good and bad, Christians and non-believers. We all have the imprint of the Trinity within us, and we all experience full joy when we return home.
When people are "one heart and one soul", the identity card of Christians, they do not need to make an effort to put their own goods at the service of who is next to him, starting from his closest relative, because sharing has this condition: he does not wait for the other to ask. Rather, one sees what the other needs, and he joyfully shares what he has. The fullness one experiences in giving is completely different from the satisfaction of philanthropy, as his goal aims more at the other fulfilling his true being rather than just looking at him as an equal.
The communion of goods lived out of social justice, out of generic solidarity, out of a community spirit, co-habitation or obligation – but without reciprocal love – is not the fruit of being "one heart and one soul", and does not it produce this reality. And when reciprocal love dies out and it isn't possible to light it again, communion of goods no longer leads to joy. God loves he who gives with joy.