The second part of the survey about the challenges of the EoC in the next 20 years
The December survey has arrived...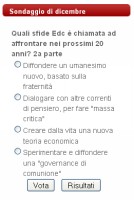 More than 200 of you answered the November survey. The questions were about the challenges that the EoC is called to face regarding how it is spread. The results of the survey can be viewed in the new survey page, but the challenge considered the most important was "Bringing its message to the business and political worlds". Now, in December, we continue along the same lines, but this time we want to know what you think about how to concretize the "new culture" that the EoC brings. This survey will be inserted in a red module to distinguish it from the last survey, and you can always find it in the upper right corner of the homepage. We invite you to continue giving your opinion, choosing only one of the proposed challenges!!!