Last days to order our magnificant agenda for the EoC's 20th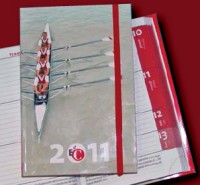 The 2011 EoC Agenda is a great opportunity to spread the economy of communion among our friends and collegues and to prepare us day after day for the big event in Brazil in 2011. As Luigino told us during the Expo at Loppiano, "we have to make a choral effort to support our initiatives: a cultural movement also needs these instruments that can and should become opportunities."
Why not, therefore, consider it as a wonderful, non-consumeristic Christmas gift full of meaning, for suppliers, clients and friends? To make your reservation, contact the editor: This email address is being protected from spambots. You need JavaScript enabled to view it..
The weekly agenda comes with an elastic-band closure, is 10x15cm and is bilingual (Italian/English). It is enriched by quotes from Chiara Lubich, Benedict XVI, Stefano Zamagni, Luigino Bruni, Alberto Ferrucci, Benedetto Gui, Vittorio Pelligra and Maria Gabriella Baldarelli. Each week brings you a thought linked to the world of economy and the EoC's new way of interpreting it and living it and the culture of giving.
The agenda is on sale for 12 Euro. You can order and buy it downloading and filling-out the editor's order form and sending it by email to: This email address is being protected from spambots. You need JavaScript enabled to view it. or by fax to n. +39 0534/23146. The form also shows the discounts available for larger orders, as well as the chance for personalized packages.