A new interactive feature on the EoC website
We've begun a monthly survey...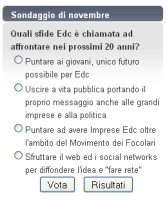 The aim of this survey is to make our website always more dynamic and capable of increasing dialogue with our devoted visitors. We're at the doors of the Brazil 2011 meeting: seven months will fly by, and we want to get there with part of the journey already taken, together, contemporaneously throughout the world. That is why we've begun this new simple survey, which will change each month and pose questions about the challenges that the EoC is called to face today, its strengths and its weaknesses. It poses questions to bring about answers and therefore gather a general common idea about the EoC today. Each month, we'll communicate the results of the survey in the newsletter. 
This month's survey is in the home page, in the upper right corner. Answering is simple. We invite everyone to answer!