Lubich, who gave the inspiration for the EoC project, was born in Trent, Italy, on January 22, 1920.
Chiara Lubich: 90 Years Since Her Birth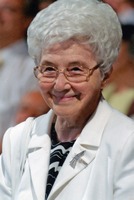 Published on Cittá Nuova Online on 22/01/2010
How can we remember her on this day? By reporting the interview which Michele Zanzucchi of Citta Nuova Online had with Maria Voce, current President of the Focolare Movement and who is currently traveling in Asia.
"Today, Chiara Lubich would have turned 90 years old. How can we remember her on this anniversary?", we asked Maria Voce, who is traveling in Asia. "We remember by thanking God for the gift he sent humanity 90 years ago, giving life to one of ´his instruments´," she answered from the Philippines. "And praising him also for the fruits that this gift continues to bring, making Chiara more present than ever."
"And what is this presence of Chiara, today, in the lands throughout the world where here friends have brought the message of unity?" we asked. This was her answer: "Everywhere, you can feel that Chiara is alive through those who have made her message the meaning of their own lives and try to bring about her Ideal of university brotherhood. It´s common to hear said in the all various meetings, ´Chiara is here´".
Day after day, that March 14, 2008, which signals the end of Chiara Lubich´s earthly adventure, gets farther away. But that was certainly not the last act of her presence among us. There are numerous signs of her presence among us. There are numerous signs which indicate how alive and working her presence still is, within and outside of the Focolare Movement.
We can remember the happy ending of the Assembly which elected the new directing "staff" of the Movement in July 2008, and which unanomously elected the new President, Maria Voce, and  clearly and quickly elected co-President, Giancarlo Faletti.
We can also remember how a young girl, Chiara Luce Badano of Sassello (Savona, Italy), is now on the way to beatification. She´s the first of a small group of men and women "examined" in their Christian sanctity, either in the diocese or already in the Vatican. It´s a group that ideally unites youth and elderly, professors and bishops, mothers and workers, all representatives of that "people born of the Gospel", of whom Chiara Lubich has been attributed mother.
The great "gusts of wind" of dialogue on all levels, begun while Chiara was living, are not showing signs of diminishing. Rather, they are expanding, as the continued adventure of "Together for Europe" confirms, and as do the multiple merits: dialogue among Catholic movements and associations, ecumenism of the people, high political proposals.
we are also witnesses to the current and continuing presence of Chiara Lubich at Cittá Nuova, not only for the letters that reach us each day, witnessing the large or small moments inspired by her person and her message, but also because in our trips in Italy and abroad we´ve noticed in those who follow her a seriousness of life and of commitment - and if it´s possible - one that is even stronger that what existed while the foundress was still alive.
And we cannot let pass in silence all of the relationships begun by the Focolare foundress in her trips around the world, with people with the most varied horizons: ethnic, religious, racial, political... Maria Voce´s trip in Asia, which we´re following on this site and which is blessed by the Pope, is the most clear confirmation of this.