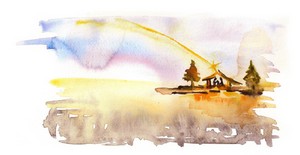 Christmas is almost here;
streets are lined with elegant shops.
Inside one of them it looks as if it's snowing:
an optical illusion.
There are children on sleds,
reindeers and Santas and puppets and candies….
Everything moves gracefully.
Look there! There are the angels!
But no, they are fairies….
A child with his parents stands
on his toes and watches, captivated.
My heart is filled with a sense of disbelief.
This rich world has trapped Christmas
and all that goes with it,
and has cast Jesus out.
It loves the poetry, the atmosphere,
the friendship that Christmas brings,
the gifts it suggests, the lights,
the stars, and the songs.
It looks to Christmas for the best profits of the year.
But to Jesus it gives no thought.
"There was no room for him in the inn…."
No, and not even at Christmas.
I didn´t sleep last night.
A thought kept me awake.
If I were to be born once more,
I would do many things.
If I hadn´t founded the Work of Mary,
I would start a business that would publicize the real meaning of Christmas.
I would print the most beautiful Christmas cards
in the world.
I would make beautiful, artistic statues,
large and small.
I would record poems and songs.
I would illustrate books for children and adults about this "mystery of love."
I would prepare scripts for plays and films.
I would do all this and much, much more!
He came unto his own and his own received him not…."
Today, I´m thankful to the Church that saved these images.
Twenty-five years ago, when I visited a place where atheism ruled,
a priest sculpted statues of angels to remind people of Heaven.
I understand him more today.
The practical type of atheism that invades the world today demands it.
The thought of keeping Christmas while casting Jesus out is something very painful.
But now in our homes may we proclaim
the One who is born and prepare for Him
a celebration as never before!
Chiara Lubich