Cittá Nuova Editorial Group makes a proposal for businesses
2011 EoC Desktop Calendar and Wall Calendar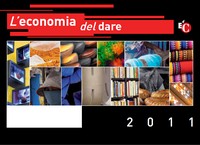 Citta Nuova also would like to underline 2011 as a "special" year for the Economy of Communion, and it will do so through the publication of a calendar (in Italian), available in two formats. Both the desktop calendar and the wall calendar can be personalized by businesses with their own logo. The calendar has the EoC logo with the "culture of giving" theme. From the experiences that have matured during these years with the EoC calendar, we have realized how fruitful it is to have one on our work desk with phrases that help to reflect on the importance of a "civil" economy marked by respect of the other.
Giving the calendar to friends and closer clients, personalized with your company's logo, can be a chance to talk about the Economy of Communion and the principles it highlights.
Businesses that wish to buy the personalized calendars should make their orders by October 15.
Indications are in the following attached documents (in Italian only)
see sample calendar 
see calendar offer 
see  proposal to the businesses
see order form