A very warm welcome to France and French-speaking Quebec, Belgium and Switzerland as well as to the entire francophone Africa!
by Antonella Ferrucci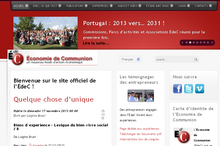 We are really delighted to announce the great news of our site to all of you. As of today, 26th November 2013, the French language finally regains its leading role, in as much as the new version of our pages will be dedicated to this language, which is so important in the world that it just cannot be missing from EoC-online any more.
Our goal is not only to spread the message of the culture of giving in our neighbouring France, but to bring this news to all French-speaking Africa, to Quebec, the French-speaking areas of Belgium and Switzerland and to other places in the world where French is the official language.
Just like each of the other languages of the site (remember, apart from Italian our site is available in English, Spanish, Portuguese and German), the pages in French will have their own, 'personalised' structure and content. It took a lot of time and commitment by many people to achieve this: a path that was not without obstacles and difficulties. Therefore - and even more so - we are especially proud to announce a goal that has been finally achieved.
A very special thanks from me and from all the International Commission of EoC goes to Enzo Barucci, who worked with great skill and efficiency on the construction of the structure of the site and on the integration of its contents, and Philippe Deroo who has been our official translator for over a year now: without their tireless contribution this would not have been possible.
Our warmest welcome to all our new visitors who will now be able to reach us in their own language!