Last November 18, at the Catholic University of the Holy Conception
A Seminar on the Economy of Communion in Concepción (Chile)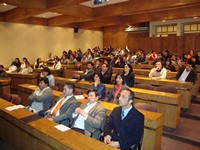 Ninty students and professors of the Department of Economic and Administrative Sciences participated 
last November 18 in a seminar at the Catholic University of the Holy Conception. There was lively 
interest that arose from the presentation of the EoC project by Bernardo Ramirez, who was introduced 
by a brief video on the Economy of Communion.
Afterwards, a concrete example: a project that is underway which supports a group of fishermen. Then, the Dean of the department gave the final remarks. Among the students,  some deeply understood the topic and saw how the EoC offers and answer to their own work on social responsibility. Others decided to focus their thesis on the EoC. The Dean expressed his appreciation and the wish that formation on the Economy of Communion be given a better structure in his university, either by proposing a series of lectures dedicated to it or evaluating the possibility of beginning an actual class.