A weekend in Arny to renew forces in the spirit of communion
by Chantal e Josè Grevin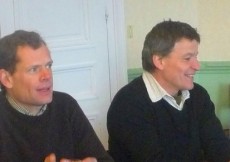 During a weekend in mid-September the entrepreneurs engaged with the EoC project in France convened for a meeting in Mariapolis Arny near Paris. Its goal was to strengthen the bonds and renew the spirit of communion among them.
The main question "What kind of relationship should we establish with those in need?" led to a renewed engagement in not only in sharing a part of business profits with the poor but also considering the marginalized as active participants in the EoC. The possibility to build relationships with them,  based on both giving and receiving, was visible in the real-life experiences shared by the entrepreneurs.
It is when workers, clients (including the foreign ones), and suppliers recognize that an enterprise is based on values such as the "priority of relationships"" and "unity" that we can state that not only the entrepreneur has chosen the EoC, but rather that the whole company has become "of communion". "It was a really happy moment", said an entrepreneur referring to the time in which his employees showed their togetherness after an accident happened to a colleague. The atmosphere established in this way within the company is the most precious thing and no one is willing to lose it.
In order to live communion concretely in their region, a group of entrepreneurs has launched a course of 8 sessions in Provence, Lorraine, Lyon (and soon also in Franche Comté).
During the weekend there was also a dynamic live contact with the EoC Summer School being held simultaneously in Madrid.
Therefore, when the idea of holding the next EOC Summer school in France next year was proposed, the entrepreneurs in gathered in France unanimously agreed to organize the same exactly in Mariapolis Arny near Paris.
See you all in France, 10-14 September 2014!