A presentation on the EoC was held during a Justitia et Pax's event.
By Sibilla van Haastrecht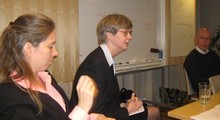 The event organized by Justitia et Pax was called: "The economy for a better society". It took place in Stockholm in the evening of April 25th. 27 people from various backgrounds participated in the meeting. Mr. Madeleine Fredell O.P. (Swedish Justitia et Pax Secretary-General) opened the evening. He spoke about the world's present challenges from the perspective of the encyclical Pacem in Terris (1963). Next, Br. Henrik Alberis O.P. (European Justitia et Pax Secretary-General) introduced three economic documents published by the Church which were inspired by the encyclical Caritas in Veritate (2009).
Later that evening, Christine Wallmark introduced the Economy of Communion and her personal experience at work. The event was wrapped up with an opened debate on the topic involving the audience. Christine's spontaneous presentation was very effective. She explained how the spirituality of the Focolare Movement inspired the sharing of goods among its members since 1943, and the EoC in 1991. She pointed out how this project relates to modern-day culture.
After introducing the overall view, Christine spoke about her work which is based on EoC principles. She handed out EoC brochures with colorful pictures, which were downloaded from its international homepage.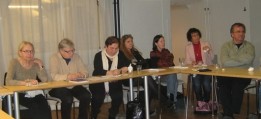 During the final debate the participants all agreed that the project consists in a practical translation of the Church's Social Doctrine. The event piqued the curiosity of the participants about the businesses that have already partaken in the project. One of them called for the advertizing of the EoC in the parishes of the country.