The XXXI Meeting on the Economy of Communion in Argentina was held 26-28 April.
By Carolina Carbonell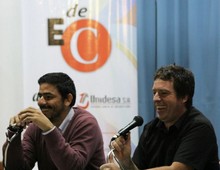 During the last weekend of April at the Mariapolis Lia Convention Center in O'Higgins, Buenos Aires, the participants in the XXXI Meeting on the Economy of Communion shared their thoughts about the ways to improve businesses according to the paradigm of communion. They were around a hundred people including entrepreneurs, workers, students and EoC sympathizers. They came from all over Argentina and abroad. Besides Esperanza and Gustavo from Mexico, 15 people came from Paraguay and a small group from Uruguay.
On Saturday morning the Assembly of UNIDESA S.A.'s shareholders took place; it is the corporation that runs the Solidaridad Business Park. During the assembly the corporation's direction was transferred to younger professionals, who will now run the Business Park. The previous generation promised to support them with its valuable long experience. After the assembly the participants were introduced to the genesis of the project (the greater the tree the more important are its roots) through the speech "The EoC, Economy and St. Francis". It pointed out how charisms are gifts that allow people to look further ahead and to be the first to see certain things.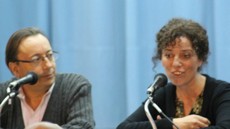 Many people shared their own thoughts and experiences. A young participant called upon entrepreneurs to include young workers in their projects. The youth have time, energy and enthusiasm, the resources which are usually missing for a great project to fly.
Later that morning, the participants of a parallel symposium on the Movement for Unity in Politics (MPPU) were invited to share their experiences. Everyone agreed that it is vital for politicians to work for a better society together with entrepreneurs and scholars.
Three workshops were held in the afternoon (1 – Planning and developing EoC businesses, 2 – Personal interactions in EoC companies, and 3 – Research on the EoC) followed by a whole group briefing session.
Sunday morning's presentation title, "The Economy, and Expression of Communion", recalled the visit of Maria Voce (Emmaus) to the Business Park in April, 2012. During her visit, she said people make a better economy when they join efforts to build a better life for all.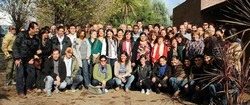 It was raining during the event, but the water didn't manage to "put out" the fire that everyone felt inside. On Sunday, the rain stopped just in time to take a group picture outside. The participants will not forget this weekend due to the communion which was experienced among everyone. It set us all free and we want to witness it to the whole of Humanity.
The 32nd meeting will take place September 6-8, in Rosario. We will welcome the participants surrounded by spring blossoms.