31st EoC meeting for students, scholars and entrepreneurs in Argentina
The Economy, an expression of Communion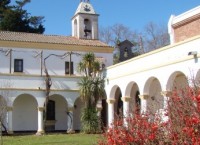 April 26 - 28, 2013, from 6pm
Mariápolis Lia's Conference Hall
O'Higgins – Buenos Aires prov.
Argentina

Both present and possible future members of the EoC are invited to the conference, including entrepreneurs, students, customers, suppliers, young people, consumers and people in need. In short, the invitation is addressed to anyone intrigued by the project. In the evening of the 26th, the Solidaridad EoC Business Park society, UNIDESA, general assembly (an open event) will open the conference. The program will end with lunch on Sunday the 28th.
see invitation
Last day for registration: April 21, 2013
Participation and meals fee:
(including dinner on the 26th and lunch on the 28th): $500 (Argentine pesos)
Registration and/or further information: This email address is being protected from spambots. You need JavaScript enabled to view it.