Fu Jen Catholic University and Sophia University Institute promoted the International Conference:
"Patterns of Unity: An Interdisciplinary Dialogue on the Thought of Chiara Lubich (1920-2008)"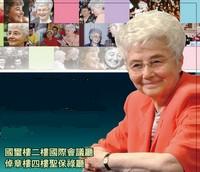 April, 2-13 2013
Fu Jen Catholic University,
Hsinchuang, New Taipei City (Taiwan)
The conference was organized to spur academic exchange among the three Catholic universities of Taiwan (Fu Jen University /Taipei, Providence Univerity /Taichung, Wenzao College /Kaoshiung). Sophia University Institute was invited by the Congregation for Catholic Education to assist the Catholic universities in Taiwan. Sophia therefore helped organizing this event.
When did this cooperation start? In 1997 Chiara Lubich received an honorary Doctor of Divinity from Fu Jen University. This year the university organized this symposium to indicate the "patters of unity", which promote dialogue and interaction among different academic disciplines.
Chiara Lubich, who consecrated her life to God on December 7th, 1943, dedicated her life to promote universal brotherhood, while encouraging dialogue and seeking for unity in every field of society. Chiara's work affected numerous aspects of human life, while her thought, based on the Gospel, enlightened various fields of study.
The conference introduced the influence of Chiara's thought in Theology, the Economy (of Communion), Environmental Protection, Media, Arts, Education, Inter-Religious Dialogue and the Culture of Unity among disciplines.
On April 13th Luigino Bruni introduced the Economy of Communion. His speech was entitled: Chiara Lubich's Economic Heritage: Communion and Gift for a Paradigm Shift.