Conference morning dedicated to the EoC at the Fu Jen university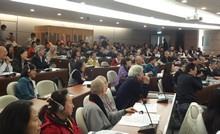 On Saturday April 13th, in the Fu Jen University of Taipei, the morning of the second day of the International Conference on the Thought of Chiara Lubich was entirely dedicated to the EoC. The audience welcomed the EoC messages with great interest. In fact, in the past years professors of economics and business - such as Teresa Chan - have taught and researched into this topic.
Luigino Bruni opened the block introducing the EoC, a heritage from Chiara Lubich to the economy. At the end of the presentation he proposed to create a small permanent study center of the EoC in Taiwan, which will identify how the EoC principles can be applied and developed to improve Taiwanese economy, and today's society in general. After Luigino, four local professors held parallel lessons on the connection between the EoC principles and the Chinese culture (Confucianism and Buddhism). These speakers, who have studied the EoC for years, based their presentations on statistics from our international website, besides the news they have received from members of the project.
After the meeting Luigino Bruni said: "I was very impressed. I hadn't yet noticed how important our website is, particularly the English version. It is the project's "business card", which has held in high esteem the initiatives in favor of the poor, and the activities of its entrepreneurs and workers. I showed them Formy's comic strip in English, which everyone enjoyed very much. The EoC was considered the most interesting topic by everyone, including bishops, priests and the two Buddhist monks (extremely agreeable persons) taking part in the conference. This dialogue between the economy and religion also left a striking impression on many participants.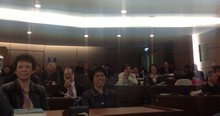 He concluded saying: "Evidently the world's center of gravity is moving towards spiritual and communitarian rooted countries. If the current "turbo-capitalist" economic philosophy (more forceful here than in Europe) prevails, very soon society will suffer great damages. Therefore, we need to work hard to bring about sustainable economic ethics and practices, particularly in this part of the world, where capitalism runs even more wild than in the West. It is a big challenge that partakes in an even greater mission."