In the one day conference on "The economy of giving" EoC entrepreneur's stories left a striking impression.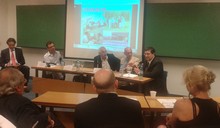 The Second International Conference on Philosophy of Economy was held on March 8th by the UCA's (Pontifical Catholic University of Argentina) Center for Economical and Cultural Studies. The title was stimulating: "The economy of giving and it's potential initiatives for Latin America". The participants were mainly scholars and students of economics and other social sciences, but some members of civil society associations and enterprises were also invited. Theoretical problems and concrete challenges related to the economy of giving were discussed.
The organizer's intention was to overcome the traditional approach to economics and introduce an interdisciplinary and multi-perspective method to face economical issues. Consequently they expected to foster new communication channels among students and practical indications for workers particularly in Latin America.
The event started off with Prof. Stefano Zamagni's involving speech entitled "The future of the economy of giving".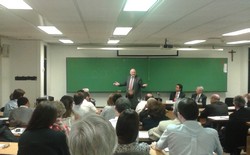 All the other panelists made reference to his address. Theories and researches on this topic were then presented from different points of view throughout the conference. The last block was dedicated to introduce true "Cases of the economy of giving in Argentina and Latin America". The EoC entrepreneur Raul Di Cascio had the floor, but he invited the entrepreneurs German Jorge (Dimaco, Paraná) and María Elena Gonzalez (Todobrillo, Asunción, Paraguay) to share their own EoC experiences as well.
In the little time left, the member of the EoC commission of Buenos Aires, Hugo Mardon, asked Raul, German and María Elena to speak about important issues on their company's daily life, such as the relationship with competitors and employees. After the whole day listening to theoretical discussions these concrete experiences were a blast. The scholars' facial expression revealed how amazed they were to learn about this sort of commitment to give without measure.
Next to speak were Florezia Locascio and Francisco Bucchara, two young students from Rosario with years of experience in the Economy of Communion, who described the project's training program for youth. It consists of schools, theses production and internships carried out in close cooperation with the entrepreneurs. They concluded the event inviting everyone to the EoC meeting in the Mariapolis Lia, O'Higgins that will be held at the end of April. There were two immediate positive feedbacks after the event: firstly one of the economist panelists asked Germán Jorge for more details about his experience, and secondly a UCA student decided to write her final paper about the EoC.