On February 22 in Kinshasa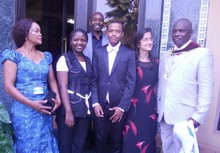 On behalf of the EoC Commission of Congo Gibby Tshinoka proudly informed us that on February 22 Anastase Ngoy, a local EoC entrepreneur, was appointed "Peace Ambassador". His wife and one of his sons, members of the Commission, and the Focolare Movement delegate in Congo took part in the event. Before celebrating Anastase declared that:
"We were named peace ambassadors without applying for it. Evidently there were observers, who inspected our lives and activities.
They noticed we can give something to their association. For the past eight years my friend Frank and I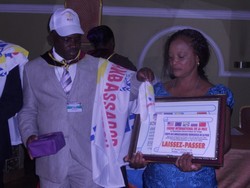 have worked in Lubumbashi, Katanga, that is approximately 2000 kilometers from Kinshasa. He's Belgian, I'm Congolese. We met as pen-pals and shortly learned to appreciate each other's work. The two of us were committed to help the people from Congo, who suffered unemployment due to ongoing war. At first we started up an enterprise and made it stand on it's own feet. The second step was to offer jobs particularly to poor people with fewer opportunities. We own a security guard company so our employees are expected to have a lot of willpower, humility, determination, and courage.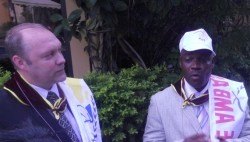 I invited Franck, an experienced entrepreneur in the business, to start up and run this challenging activity with me. Eight years has past, and today we employ workers from all over Congo. We never imagined someone was following our activity. However, the Association of Peace Ambassadors of Congo found us and decided that our experience makes a significant contribution to their association. I believe that besides ambassadors we are peace builders; we learned that one needs to plan first in order to make peace. We should keep giving a helping hand. Thank you all!"