Remembering Chiara Lubich: an opportunity for dialogue with the Orthodox Church.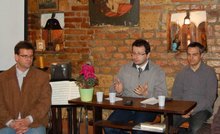 On March 16 in the historic building of the center of Belgrade where the Cultural Center "Pavlović Family House" is located, an event was held in memory of Chiara Lubich. During this meeting the local community introduced the Economy of Communion, which is one of the projects inspired by Chiara Lubich and immediately implemented in Serbia (today 19 Serbian companies are already members of the EoC).
The first academic presentation on the EoC in Serbia was held as a round table in a hall in which gatherings among friends take place since it was inaugurated.
The majority of the approximately 55 participants from different towns of Vojvodina were orthodoxes. A bishop vicar of the Serbian Patriarch, Andrej Ćilerdžić, was also present.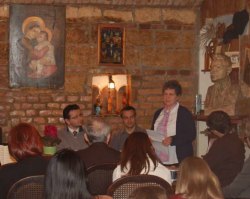 The speakers were: Davor Džalto, Orthodox President of the Institute for the Study of Christianity and Culture of Belgrade, and Domagoj Sajter, professor in the Department of Economics of Osijek, Croatia. Davor Džalto opened the event and spoke about the current tendency for injustice to perpetuate in many fields of today's society and economy. Acording to him, despite the local positive projects we are in need of interconnected and people-centered solutions for society. As a response to this discouraging picture, Domagoj Sajter briefed on the EoC many concrete examples. The EoC promoters Janko Katona and Klara Talos were next to address the event, and they shared their lively personal experiences, which were specially appreciated by the audience. The two core ideas which particularly struck the participants were: the presence of an "invisible partner" and the commitment to live in the moment; in one word, the trust in God. Everything we have (goods, talents...) comes from God, therefore everything should be given back to God (in our brothers and sisters).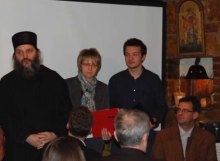 In the last part of the event an opened and engaging dialogue took place between the participants and speakers. The bishop Andrej took the opportunity to thank the organizers for choosing such an appropriate topic. He also said he hopes a continuous and steady relationship will last between the Focolare Movement and the Serbian Orthodox Church.
The Economy of Communion consists of a concrete fruit of Chiara Lubich's life and it was also developed in Serbia. Moreover, this event of the EoC was responsible for bringing together people from different social and religious backgrounds; it gave new hope to today's world.