February 9-10: A piece of News from the Usual Appointment of French EoC Entrepreneurs.
By Chantal and Josè Grevin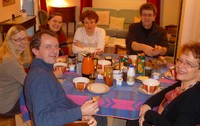 The usual formation weekend for French entrepreneurs which is held twice a year, this time took place at Arny, near Paris. In the light of the topics covered during the weekend: 'What have you done with your Brother?' and the "Guidelines for Running an EoC Business", entrepreneurs had the opportunity to express what transformed their way of being during the last few months. In talking with workers, for example, two businesspeople decided to put the emphasis first of all on the person's qualities and in one case, thanks to an unexpected moment of light, this allowed them to find the right placement for a 'problematic' person within the company.
Anouk Grevin, professor and researcher at the University of Nantes, presented to participating entrepreneurs an article destined to be published in a scientific magazine on management that brings into relief the specificity of the EoC in respect to other alternative economies. Her talk was followed by a particularly vivacious exchange which showed the fecundity of the encounter between thought and action in the field.
The role of the Association Aurore, and the Report on Economy of Communion 2011-2012, translated into French, was given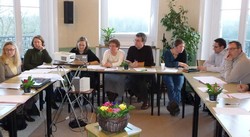 ceremonially to each participant and sent to those who were absent as a sign of gratefulness for what each lives and gives.
Lastly, we joyfully share the news with you about the presence of little nuclei of two to three entrepreneurs in six regions of France which will give the opportunity for other bigger groups to arise: the elaboration of a 'Path of Communion' to form other entrepreneurs attracted by the EoC, to a life of communion, is now in the works. This program, which will be distributed in eight evenings throughout a period of two years, will provide an input of spirituality and the experiences made by businesspeople, according to a specific formula defined during the weekend.