An afternoon given to the culture of giving at Malle, last February 5
By Elisabeth Simoen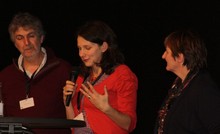 An afternoon in pursuit of the EoC principles for the 320 students of the last year at the Thomas More Superior School of Formation in Business Administration in Kempen, last February 5 at Malle, in Belgium.
What are the challenges that the crisis we are going through is making us face? Starting from this question posed to the students, we then went on to describing the birth of the Focolare Movement – the area in which the EoC was born – during another great moment of crisis in the II world war. At that time Chiara Lubich chose to live the Gospel in a radical way and to love each neighbour, beginning with the very poor: in the same way today one could look beyond the current crisis to understand together how it could be a launching pad towards a healthier and more just economy.
The program proceeded with all kinds of ideas for young people, with the Culture of Giving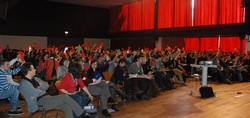 as the conductive thread for the whole afternoon: some testimonies during the plenary section were followed by workshops. The young people divided themselves into 15 working groups, each led by 2 experts, all committed to live the culture of giving both in their daily and professional lives. Present there, were various EoC entrepreneurs, as well as a prison director, a business accountant, the director of a psychiatric hospital, a human resource accountant, a homemaker who did volunteer work…each of whom carried a single message: in each moment of your life, you can choose to do good, beginning with small things, such as loving your colleagues, adopting radical choices in family life, up to giving a part of your business profits to the EoC. The students were surprised in seeing such radicalness in daily choices, but they understood that they were not choices made individually, but of a culture that has its effects in each choice in life.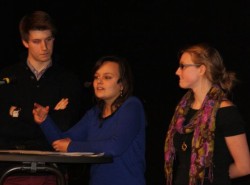 Ending the afternoon, some young people described their experiences at the Genfest and they presented Together 4 Peace, a project carried forward in Belgium by more than 100 youth who promote activities for peace, like a musical with young people of different cultures, languages and religions, or with visits to the elderly in nursing homes, afternoons playing with gipsy children... showing that to build a united world one doesn't have to wait until one reaches a professional level, but one can start right now. At the end, a challenge was flung to all the young people present: starting all together to live the culture of giving, beginning by small actions, not huge ones. With surprise and marvel the students adhered to this invitation with enthusiasm.
Some reactions: "They are certainly not arguments of which you hear speak every day, but I sense a 'truth' in the things I heard today." "To give unconditionally is difficult, how do you learn to give without expecting anything in return?." "Tell us the secret: one can see that you are fulfilled. I want to live this way too".
A very rich afternoon then, in which it was obvious that the culture of giving and the EoC are more that some act of charity towards the poor, and that the world will be going towards a better future if it can practice living this culture.