Through Logia's initiative, the Belgian think tank which intends to promote a Christian voice in public debates, last December 11 held a convention in Belgium with the topic: The Economy of Communion, answer to the economic crisis in Europe?
By Elisabeth Simoen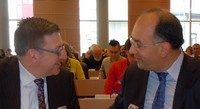 The economic crisis has left no one indifferent and for this reason Logia retained it to be fundamental to dedicate to his members a reflection on what, today, preoccupies the "collective mind" the most.
Speakers invited were Luigino Bruni, professor of Political Economy at LUMSA University in Rome and at the IUS Sophia of Loppiano (FI), and Steven Vanackere, the current vice prime minister, and finance minister of Belgium. Both speakers expressed their own personal vision of the crisis and on the challenges of this epochal period: characterizing both speeches was the certainty that this crisis – as often happens in the history of humanity – carries with it the opportunity to reflect and to return to essential things. The crisis has revealed itself to be not only an economic one, but also a relational crisis and men and women of today must find a way in between the two extremes of total auto-determination and a globalization that no longer leaves room for the individual.
A rich dialogue followed after the public meeting: everyone felt called personally and many told us how this new vision of the economy struck them. Present among those invited was Koen Vanreusel, a Belgian EoC businessman: many asked him questions on the administration of his company and asked to meet with him again to go more in depth on the EoC. The Minister, Steven Vanackere, beyond being very interested in Bruni's vision, encouraged him to carry on with his research: in fact, he admitted to believing a lot in the model proposed by the EoC, which in his view, view, could give an effective

contribution in bringing the economy back to a more human dimension.
The Logia think tank unites more than 150 people, among whom individuals who have important roles in different sectors of Belgian society, but also young people, all convinced of the importance of Christian values in today's society. Its main aim is to form Christians to participation in the media debate on current topics to favor dialogue with today's culture.