A Truly Special Occasion to give Witness for 'Communion'
By Maja Calfova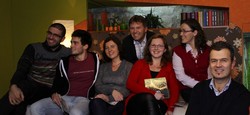 An hour on live television to present the Economy of Communion: an opportunity presented itself to us last Nov. 20 by the Slovakian television, TV Lux. We were happy to accept, and 6 of us participated. The program had three parts. In the first part we presented the EoC as a 'global' reality, putting it forward as a project born from life and not around a table, which exists if there are people who believe in it and put it into practice.
Twenty years ago, it was nonexistent, whereas today, it is a vital reality with positive effects in the lives of people, of communities and of society in its whole. It is an entrepreneurial, as well as cultural, and social reality which has 'communion' as its common denominator. The EoC as a good economic process which, along with others, follows and objective: that there be no poor on earth, but to build 'communion' with everyone, as the base of every economic and civil action by the EoC. In answering the host's question: "And do you believe in it?" Sylvia, Tomáš and Maya were able to give their own personal experiences. The second part of the program showed images and a few phrases from the video by Charisma Productions: Economy and communion meet, in its Slovak version.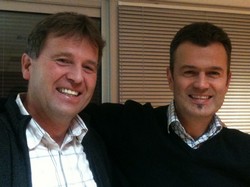 Then, the very concrete and geographically 'close' witness by the Czech, EoC businessman Peter Láska: having been 20 years on the international market with his company which produces mechanical components, he explained to the viewers that, yes, if one believes in it, if there is an intrinsic motivation for the common good, if one tries to create communion with one's employees and involve them in the productive process, sharing the difficult moments, then, even if the crisis is global, the company is able to withstand the storms that are happening all around; not only: it is a gift for people and for society, because it creates work for those without, and by sharing the profits, it reaches also those who are indigent.
The third part of the program was dedicated to the 'EoC and young people'. Viera and Maroš, the two 'students' who had been at the Summer School in Portugal in September, expressed with simplicity and enthusiasm their 'yes' to an economy based on communion. Viera in particular, affirmed her wish to realize a business project she has in mind, as an economy of communion business.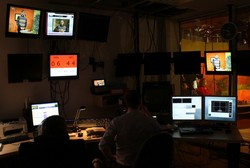 During the programs' air time, there were many questions sent via msn or e-mail by the viewers watching from home: their doubts about such and economy, especially in this time of moral crisis and of general disappointment, or of encouragement and good wishes for the best, asking us to continue onwards on this road. Some voiced their desire to meet with us and left their phone numbers. One individual wrote in asking that more space be given for the EoC on Television. One listener who interacted with us, at the end won a video on the EoC which had been entered in a contest.
In conclusion, it was a very beautiful evening for all of us which increased our responsibility tenfold because each one of us, must 'live' the EoC before 'announcing' it: it is the life that counts. Right after the end of the program we found ourselves with our host and a few other people who had been waiting for us outside, in a sort of 'after-party' at a nearby bar. While having an ice-cream, we were able to feel the reality of the deep communion which united us in that moment, and we found ourselves even more enflamed for the EoC, convinced of the fact that the EoC is 'ours', but we must 'give' it to all. It is up to us to live it every day and to find every occasion to announce it. In the meantime, the replay of the program has already been aired a few times: the announcing continues!